UTSA ranked among top schools in nation for recycling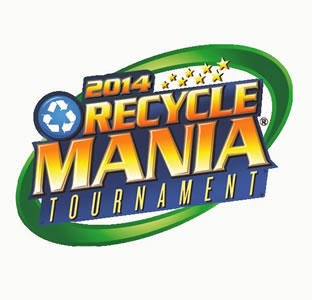 Share this Story
(April 17, 2014) -- The University of Texas at San Antonio (UTSA) had another record-setting year in the 10-week RecycleMania national intercollegiate competition, placing 19th out of 256 participating colleges and universities across the United States and Canada and third out of 12 schools in Texas. Both rankings were in the Competition Division -- Grand Champion category.
"We are proud of this ranking because it shows how serious the UTSA community takes recycling and waste reduction," said Richard M. Garza, UTSA environmental and construction safety manager. "Our students, faculty and staff continue to surprise us with their interest and support for this program."
For the seventh year, UTSA participated in RecycleMania, which ran Jan. 19-March 29. The goal for each of the universities and colleges in the competition was to recycle the most pounds of recyclables per capita.
This year, UTSA recorded 290,595 pounds of material recycled over the course of the 10-week contest. In total, UTSA recycled 55.6 percent of all waste generated across its campuses. This enabled UTSA to place 24th in the waste minimization category for generating only 18.2 pounds of trash per person during the contest.
This success was largely due to the mini trash bin program the university implemented within the past year. Designed to make each individual aware of and responsible for the waste he or she generates, a small trash receptacle is attached to each employee's larger personal recycling bin.
The Grand Champion category combines trash and each of the core recyclable materials to determine a school's recycling rate as a percentage of its overall recycled materials to total solid waste generation. To be ranked in this category, schools must provide the sponsors with their trash and recyclable paper, cardboard, can and bottle weights.
The winner has the highest-percentage recycling rate, which means that they not only have reduced trash disposal through waste prevention, but also have a strong recycling program for the acceptable materials.
In last year's competition, UTSA ranked 27th among 274 colleges and universities, by gathering 249,678 pounds of recyclable materials. This year's results mark a 16 percent increase over last year. Additionally, UTSA placed third in Texas, just behind Richland College and Lone Star College-Kingwood.
>> Think before you throw away items that can be recycled. Recyclables include paper, cardboard, plastics, aluminum cans, glass bottles and Styrofoam food containers (take-out trays and cups). Exceptions include items such as food, liquids, used napkins and facial tissues, coffee grounds and Styrofoam formed packing. Everything else goes in the blue recycling bins across the campuses.
For more information, visit UTSA Recycling online.