UTSA to host Stress Down Days for students April 28-May 2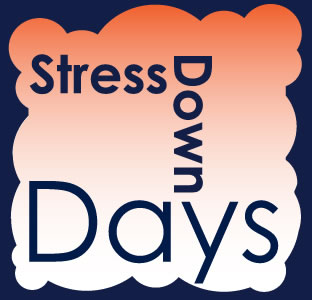 Share this Story
(April 25, 2014) --Several departments at the UTSA Main Campus and Downtown Campus will host free, stress-reducing activities for students from April 28 to May 2 just in time for semester finals. One event will include therapy dogs to provide stress relief.
With the theme "Don't Stress, Do Your Best, Forget the Rest," the events for the first time will feature therapy dogs from Delta Pet Partners of San Antonio. Students can interact with puppies and feel the calmative effect.
"Pets have been proven to provide calmness, happy moods, reduced blood pressure and emotions that lead to stress relief for people," said Amanda Graves, UTSA health education coordinator at Student Health Services. "Therapy dogs can provide students with a break and help them return to their studies with less stress and anxiety."
Other activities will include de-stressing tips, brain massages, button and funky pencil making, chair massages, aroma therapy, healthy snacks, fresh fruit, bottled water, chair yoga, stress balls, UTSA Listens, biofeedback and Mandala coloring.
Additionally, there will be free t-shirts, prizes, Par SCORE test forms and refreshments provided at the events. The Roost game center in University Center Room 2.220 will be open throughout Stress Down Days from 8 a.m. to 11 p.m.
>> Download the Main Campus Stress Down Days schedule.
>> Download the Downtown Campus Stress Down Days schedule.
"Students will hopefully walk away from the events a little more relaxed and ready to tackle their final exams and papers," said Emma Hashman, student development specialist at the Tomás Rivera Center. "We want to show students we are always here for them, especially during stressful times like finals week."
Stress Down Days is presented by the Tomás Rivera Center for Student Success, Campus Recreation, UTSA Listens, Counseling Services, Student Health Services, UTSA Libraries, Academic Advising Council, University Center, ARAMARK, Student Government Association and Jason's Deli.
>> For more information, contact Emma Hashman at 210-458-6863.