UTSA graduate students to present sustainability plan for San Antonio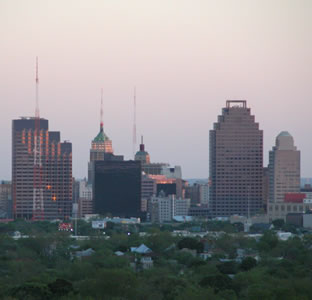 Share this Story
(April 11, 2014) -- Graduate students at The University of Texas at San Antonio (UTSA) will present a draft of their sustainability plan for San Antonio at the regular meeting of the Alamo Sierra Club at 6:30 p.m., Tuesday, April 15 at the Witte Museum Auditorium. The students will receive feedback from the public as part of their efforts to develop a realistic and effective plan.
The graduate students are developing the sustainability plan for their Urban and Regional Sustainability class, a requirement of the Urban and Regional Planning program in the UTSA College of Architecture. They have been reviewing sustainability issues as well as sustainability plans and climate action plans from various cities. This preliminary plan for San Antonio is based on research they conducted throughout the semester.
Bill Barker, AICP, UTSA adjunct associate professor, is the guiding the students. Barker is a Sierra Club member and recently retired from the City of San Antonio Office of Sustainability. He joined the City after serving as executive director of Solar San Antonio. He came to San Antonio in 1997 to be the director of planning for VIA Metropolitan Transit.
Previously a transportation and energy consultant, Barker has helped public and private clients in seven states, Canada and Mexico. His federal clients include the U.S. Department of Energy, the U.S. Department of Transportation and the Agency for International Development.
Barker has been a consultant for the Houston Advanced Research Center, Environmental Defense Fund and Gas Research Institute. He has a bachelor's degree in physics and a master's degree in urban affairs.
The Witte Museum is at 3801 Broadway, San Antonio, Texas. Free parking will be available.
------------------------------
The Urban and Regional Planning program in the UTSA College of Architecture includes a research center and two academic programs: the 15-credit-hour graduate Certificate in Urban and Regional Planning and the 48-credit-hour Master of Science in Urban and Regional Planning Degree. The Center for Urban and Regional Planning initiates and supports student and faculty research.