Prospective students, parents will come to UTSA Day on Saturday, April 5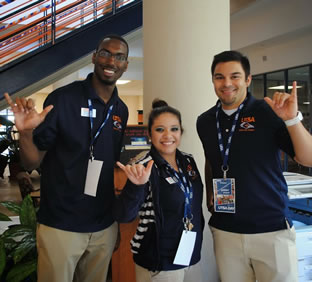 Share this Story
(April 3, 2014) -- UTSA will host UTSA Day from 9 a.m. to 1 p.m., Saturday, April 5 at the Main Campus. The event for prospective students coming to campus in fall 2014 will feature an information fair, campus tours including residence facilities, presentations and one-on-one financial aid consultations called Rowdy Orange and Blue Print. The day will open with a greeting from UTSA Head Football Coach Larry Coker.
>> Check-in begins at 8 a.m. at the H-E-B University Center ballroom galleria. Download a parking and check-in map.
After UTSA Day, students and their families are invited to NIUTSA, a pre-Fiesta event from 7 to 9 p.m., Saturday, on the first floor of the Durango Building at the Downtown Campus. Participants who bring the UTSA Day flier to NIUTSA will receive a free gift. Street Corner Symphony, an a cappella group featured on TV's "Sing Off," will perform.
"We are excited about UTSA Day because we expect more than 2,600 participants, which is a record," said Beverly Woodson Day, UTSA director of undergraduate admissions. "There will be a full day of events and an opportunity for students to drop off documents to complete their applications for admission and financial aid."
"Our entire staff will available in John Peace Library Room 1.01.04 to meet with students and their families for personal counseling sessions to help them get a jumpstart in paying for school this fall," said Erika Cox, director of enrollment services.
>> Students participating in Rowdy Orange and Blue Print can park free in any unmarked space in lot 1 on Bauerle Road and Ford Avenue. View a parking lot map.
For more information, contact the UTSA Welcome Center at 210-458-5145, email FinancialAidOutreach@utsa.edu or visit the center on the ground level of the Bauerle Road Garage on the Main Campus.