UT System regents honor UTSA student for outstanding work in creative writing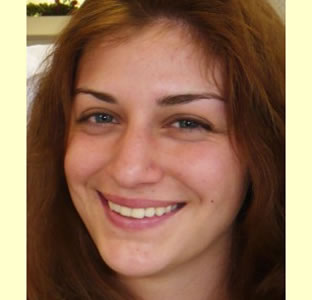 Share this Story
(May 21, 2014) -- UTSA undergraduate student Alison Ochoa was honored at the UT System Board of Regents meeting May 15 with the Regents' Outstanding Student Award in Arts and Humanities for exceptional work in creative writing. She and two other UT System students received $1,500 awards that will go to their respective academic departments.
A biology major who also has taken English classes, Ochoa was selected for excellence in short fiction. While not immersed in an academic program focused on developing creative writing skills, she has developed a passion for expressing herself through words.
"To even be considered for this award is both inspiring and an unbelievable honor," Ochoa said.
The other award winners were UT Austin student Catherine Cleary, who was honored for poetry writing, and UT Arlington student Samantha Jones, who was recognized for her short fiction.
The Regents Outstanding Student Awards program fosters excellence in student performance, rewards outstanding students, stimulates the arts and humanities, and promotes continuous quality in education.
"The arts and humanities are an extremely important aspect of higher education, and the Board of Regents is proud to have the opportunity to present these awards to such deserving students," said Regents Chairman Paul Foster. "I congratulate our winners today for their outstanding contributions and wish them continued success as they promote the importance of expressive written art at UT System institutions."
Established in February 2012, the Regents' Outstanding Student Awards in Arts and Humanities commend students at UT System institutions excelling in one of four disciplines: musical arts, visual arts, poetry writing and short essays.
>> Learn more about the nomination and evaluation process at the Regents' Outstanding Students Awards in Arts and Humanities website.
------------------------------
About the University of Texas System
Educating students, providing care for patients, conducting groundbreaking research and serving the needs of Texans and the nation for more than 130 years, the University of Texas System is one of the largest public university systems in the United States with nine academic universities, six health institutions and a fall 2013 enrollment of more than 213,000.
The UT System confers more than one-third of the state's undergraduate degrees, educates two-thirds of the state's health care professionals annually and accounts for nearly 70 percent of all research funds awarded to public universities in Texas. The UT System has an annual operating budget of $14.6 billion (FY 2014) including $3 billion in sponsored programs funded by federal, state, local and private sources. With approximately 90,000 employees, the UT System is one of the largest employers in the state.
For more information, contact Jenny LaCoste-Caputo or Karen Adler at 512-499-4363 or 512-574-5777.