UTSA SBDC and Holt Development Services recognize grads of business program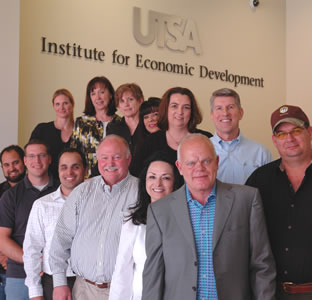 Share this Story
(May 29, 2014) -- The UTSA Small Business Development Center (SBDC) and Holt Development Services are honoring the latest 12 graduates of the Building Business Excellence program, a seven-week intensive strategic leadership program designed to support established, strong companies.
In 2011, the UTSA SBDC joined forces with Holt Development Services Inc. (a division of Holt CAT) to revamp their Building Business Excellence program to focus on training and assisting participants in adopting a values-based leadership model.
The program is a unique business leadership opportunity to propel established small- to mid-sized firms to new heights. During the program, facilitators share Holt's widely celebrated Values Based Leadership methodology and discuss how to integrate the principles into other companies.
Graduates of the 2014 program include Nick Lopez of Bubble Bath Car Wash; Kyle Gish, Nancy Barnett, James Wilson and Stacy Villarreal of Dustless Air Filter Co.; Christopher Mammen of ECS Learning Systems; Trichia Stoddard Ramirez with JC Stoddard Construction; Shawn Fluitt and Mark Stark of Timekeepers Inc.; Sandra Lopez of Frank's Paving Co. Inc.; and Dianne Moe and Amy Lopez of Wave Healthcare.
The SBDC is a center within the Institute for Economic Development that serves Bexar and 10 surrounding counties including a satellite office in New Braunfels.
------------------------------
Learn more at the Building Business Excellence website or email Yanet G. Byrom.