UTSA marks 100,000 graduates at Spring Commencement May 10-11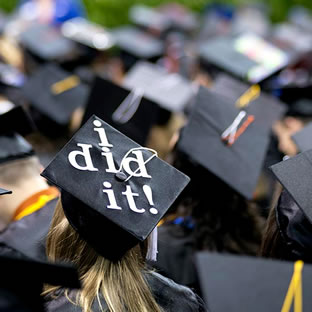 Share this Story
(May 6, 2014) -- The University of Texas at San Antonio (UTSA) will celebrate two days of commencement ceremonies Saturday, May 10 and Sunday, May 11. For the third time, UTSA will conduct these ceremonies at the Alamodome in downtown San Antonio. UTSA President Ricardo Romo will officiate the three ceremonies and serve as keynote speaker.
At spring commencement, UTSA will mark 100,000 graduates since the university's inception in 1969. More than 4,450 students are eligible to graduate in the three ceremonies, and an estimated 2,469 undergraduate students, 679 master's students and 56 doctoral degree candidates are expected to participate.
The first ceremony will begin at 10 a.m., Saturday, for graduation for candidates from the UTSA College of Education and Human Development and the UTSA College of Sciences. This semester, an estimated 683 education and human development students and 339 sciences students are expected to participate in this ceremony.
On Saturday afternoon, graduation candidates from the UTSA College of Architecture, the UTSA College of Business and the UTSA College of Public Policy will gather at 4 p.m. for the second of the day's ceremonies. An anticipated total of 138 architecture students, 706 business students and 249 public policy students are expected to participate in this ceremony.
At 2 p.m., Sunday, candidates from the UTSA College of Engineering, UTSA College of Liberal and Fine Arts and UTSA University College will gather to conclude the weekend ceremonies. An estimated total of 185 engineering students, 789 liberal and fine arts students and 115 University College students are expected to cross the stage in this ceremony.
All listed graduation numbers are considered preliminary and subject to change.
>> For more information about UTSA Spring Commencement 2014, to read Student Spotlights from each of the nine UTSA colleges or for detailed day-of instructions for all three ceremonies, visit the UTSA Commencement website.
------------------------------
About UTSA
The University of Texas at San Antonio is an emerging Tier One research institution specializing in health, energy, security, sustainability, and human and social development. With nearly 29,000 students, it is the largest university in the San Antonio metropolitan region.
UTSA advances knowledge through research and discovery, teaching and learning, community engagement and public service. The university embraces multicultural traditions and serves as a center for intellectual and creative resources as well as a catalyst for socioeconomic development and the commercialization of intellectual property -- for Texas, the nation and the world.