UTSA Libraries launches virtual exhibit on history of Gebhardt Mexican Foods Co.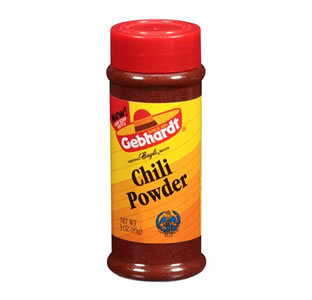 Share this Story
(May 15, 2014) -- The UTSA Libraries has launched a dynamic virtual exhibit to honor Gebhardt Mexican Foods Co., a San Antonio business that revolutionized chili powder and Mexican convenience foods across the country for almost a century.
>> View the online exhibit at the UTSA Libraries website.
The zesty virtual exhibit represents an historical journey that follows the popularization of chili powder and Mexican cookery, taking the viewer through the twists and turns that resulted from one man's vision to offer America something it had never tasted before. The exhibit highlights this progression in a digitally designed format that provides multimedia through text, photographs and original advertisements that serve as the backdrop for the uniquely engaging experience.
The San Antonio firm started in 1896 with Willie Gebhardt's passion for cooking and his infatuation with Mexican food. Shortly after opening a restaurant in New Braunfels, Gebhardt relocated his business to the Alamo City and began pursuing his dream of offering novel tastes beyond the Lone Star State.
Gebhardt achieved his dream by importing ancho peppers from Mexico to produce a fine and tasteful chili powder that added "That Real Mexican Tang" to any dish. His company published Mexican cookbooks and went on to promote other products such as canned chili, canned beans, deviled sandwich spread and Mexican dinners-in-a-box. Through impressive marketing in radio commercials, and newspaper and magazine advertisements, the company was able to achieve critical acclaim, and the Gebhardt name became synonymous with Mexican cookery across America.
In 1989, the UTSA Libraries Special Collections acquired the Gebhardt Mexican Foods Co. records to preserve and share this extraordinary chapter from San Antonio's culinary history. The exhibit was created with the goal of making it more accessible to the general public by establishing a new experience that could be appreciated by a broad audience.
While Gebhardt's famous chili powder can still be found on the shelves of some grocery stores in Texas and reportedly in Southern California, the company itself no longer exists. The UTSA Libraries collection may some day be the public's only connection to the once beloved family-owned company.
"Anyone interested in the history of the popularization of Mexican food in the United States will enjoy experiencing this unique collection from the comfort of their own computer," said Anne Peters, communications director for the UTSA Libraries.
The UTSA Libraries Special Collections preserves the legacies of San Antonio and South Texas through a rich array of primary resources. Strengths of the collections -- which are open to academic and casual researchers alike -- include San Antonio history, urban development and architecture, regional authors, Mexican cookery, women and women's history, and the Texas-Mexico border region.
For more information, visit the UTSA Libraries website.