Six UTSA faculty win $20,000 in seed funding to support new areas of research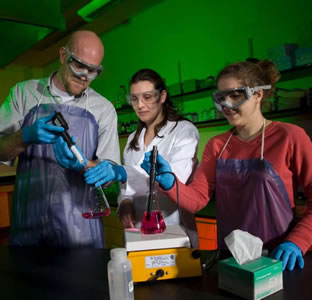 Share this Story
(May 28, 2014) -- The Grants for Research Advancement and Transformation (GREAT) program, sponsored by the UTSA Office of the Vice President for Research, has awarded six seed grants of $20,000 each to support new areas of research for faculty. The primary goal of the awards is to assemble preliminary data that can be used to seek extramural funding and advance UTSA's goal of reaching Tier One status.
The competition was extremely close, and those awarded were chosen for the proposed projects' potential to secure extramural funding to further their research.
The awardees and research projects are:
College of Architecture
Angela Lombardi, assistant professor, Department of Architecture
"The Franciscan Missions of the Camino Real: Applying Geo-Technology to Research for Cultural Heritage Management"
College of Engineering
Adel Alaeddini, assistant professor, Department of Mechanical Engineering
"Integrative Statistical and Operational Methods for Effective Chronic Disease Management"
Krystel Castillo, assistant professor, Department of Mechanical Engineering
"Integrated Modeling and Optimization of Supply Chain Design for Sustainable Bioenergy Systems"
College of Liberal and Fine Arts
Robert Hard, professor, Department of Anthropology
"Reconstructing Holocene Paleoclimate in Southwestern New Mexico"
College of Sciences
Robert Renthal, professor, Department of Biology
"How Begomovirus Manipulates Whiteflies for Transmission to Plant Hosts"
Waldemar Gorski, professor, Department of Chemistry
"Determination of Enzyme Biomarkers and Nanoparticle-Based Enzyme Inhibition"