UTSA administrative professionals honored at training and development event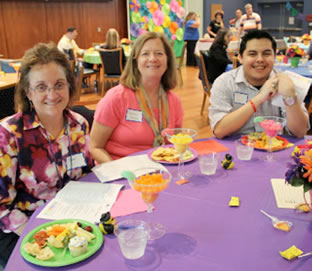 Share this Story
(May 27, 2014) -- Seventeen UTSA administrative professionals were honored at the annual celebration of the Administrative Support Toolbox Series training program April 23. The eighth annual event with a Fiesta theme was hosted by the UTSA HR Training and Development department and recognized administrative staff who completed five courses representing more than 17 classroom training hours.
The celebration coincided with National Administrative Professionals Day, which recognizes the vital contributions of administrative professionals throughout the United States. The event included a performance by the UTSA Student Mariachi Ensemble, refreshments, door prizes, activities and networking.
The Administrative Support Toolbox Series consists of five courses plus an orientation session that focuses on key functional areas carried out by UTSA administrative staff. The courses provide a high-level overview of the functions, services and resources of each area. Subject matter experts present important information to class participants.
This series runs on a continual six-month cycle with one class offered each month. This allows administrative professionals to attend class when their schedule permits and to complete the series according to their own timeline. Because class information is updated each time it is presented, past graduates are encouraged to attend class as a refresher to stay up to date.
The Administrative Support Toolbox Series will present the Supervision Class (SD 241) on May 28 and then will begin the five-course rotation starting in June:
Academic/Student Processing (SD 245) June
Human Resources Processing (SD 240) July
Note: No class in August
Orientation (SD 228) September
Financial Processing (SD 239) October
Communications and Marketing (SD 238) November
Supervision (SD 241) December
For more information and to register for class, visit the MyTraining website or contact HR Training and Development at 210-458-4658
The UTSA staff members who completed the Administrative Support Toolbox Series training program received certificates of achievement and special gifts:
| | |
| --- | --- |
| Mardia Barraza-McCarthy | Development and Principal Gifts |
| Melanie Bentley | Tomas Rivera Center for Student Success |
| Maureen R. Bird | College of Business Office of the Dean |
| Christal R. Cooper | UTSA Testing Services |
| Marie G. Edmondson | Tomas Rivera Center for Student Success |
| Humberto Garcia | COEHD Department of Kinesiology, Health and Nutrition |
| Marian R. Harris | Student Conduct and Community Standards |
| Linda Kerns | UTSA Testing Services |
| Kevin McCollom | Vice Provost Downtown/Academic and Faculty Support |
| Janice Marshall | COLFA Department of Psychology |
| Nancy A. Miller | Office of P-20 Initiatives |
| Monica Perryman | UTSA Graduate School |
| Mary Lou Spillers | Center for Research and Training in the Sciences |
| Rita J. Sutton | Purchasing and Distribution Services |
| Sylvia Rayko | Office of Sponsored Project Administration |
| Priscilla Rios | COLFA Undergraduate Studies and Curriculum |
| Brittanii P. Rogers | Center for Research and Training in the Sciences |