UTSA University Teaching Fellows program fosters Ph.D. student teaching excellence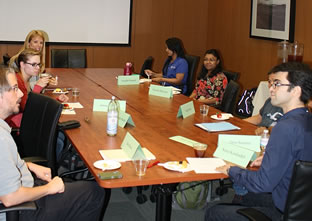 Share this Story
(May 27, 2014) -- Each year, a small group of UTSA doctoral students are selected for the University Teaching Fellows (UTF) program to develop their teaching skills and provide service to their departments. Recipients are awarded $25,000 for their participation in the program, which prepares them for a career in academia.
"UTSA is taking vital steps toward Tier One status by financially supporting Ph.D. students and improving their teaching and academic excellence," said Lucretia Fraga, UTSA Libraries teaching and learning consultant and coordinator of the UTF workshops. "The hands-on skill development that the program provides allows Fellows to become essential resources to their departments."
Developed and supported by Daniel Gelo, dean of the College of Liberal and Fine Arts, and now coordinated by the UTSA Libraries Teaching and Learning Services unit, the program involves a yearlong series of workshops on both teaching in the classroom and teaching online in hybrid-blended formats.
In addition to workshops, Fellows complete a service project that directly benefits their department. Past UTF service projects have included creating a repository database for lesson plans, quantifying doctoral data for hands-on research, helping faculty digitalize teaching formats to develop an online curriculum and using the Quantitative Literacy Program model to increase students' critical thinking.
"The UTF program is a fantastic opportunity for graduate students from any department," said Jennifer Bonavia, a 2013-2014 Fellow in the Department of Anthropology. "It provided the opportunity to become more deeply involved within the UTSA community. I have gained many essential skills that will benefit my department, community and future academic endeavors."
Fellows have already been selected for the 2014-2015 academic year, but applications for the 2015-2016 UTF program will become available this fall. For more information, visit the University Teaching Fellows Web page.