Meet a Roadrunner: UTSA grad student Cirilo Campos will perform at the World Cup in Brazil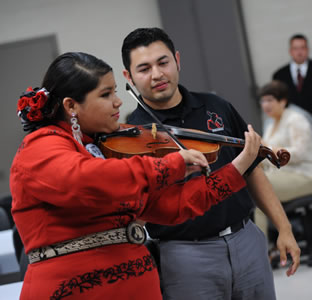 Share this Story
(June 11, 2014) -- Meet Cirilo Campos. The education graduate student will travel to Brazil this summer to perform mariachi music at the 2014 FIFA World Cup.
Campos is a member of the sixth cohort of the Urban School Leaders Collaborative and will graduate from UTSA in December with a master's degree in educational leadership and policy studies. He says his experience at UTSA has been just as amazing as his opportunity to perform during the World Cup.
"UTSA has been a transformative experience," said Campos. "I didn't know what to expect going into it, but I am so thankful. It has transformed my family and transformed my mindset. The way I teach has changed, and the way I see life has changed, and I am grateful for that."
A mariachi teacher at Washington Irving Middle School in the San Antonio Independent School District, Campos is a member of Mariachi Los Caporales. The ensemble has performed in other countries and venues, but it will be their first time at the World Cup. His group is one of several set to travel with the Mexican national soccer team to Brazil to represent the music and culture of Mexico.
"Basically we go into a different country and we take Mexico with us," said Campos, who has performed with the mariachi group for 10 years. "We take a restaurant, we take a plaza, we take music, and we take culture and share it with other countries. And that's what we are doing this summer at the World Cup."
While this is the first time Campos has traveled to Brazil, it is not his first time traveling abroad with the mariachi group. In 2009, they traveled to Morocco for six weeks, getting to know each other and the local people, and sharing ideas and culture – which he says sounds a lot like the UTSA and San Antonio experience.
------------------------------
Do you know someone at UTSA who is achieving great things? Email us at social@utsa.edu, and we will consider your submission for an upcoming installment of Meet a Roadrunner.
Read the stories of other UTSA students, faculty, staff and alumni on the Meet a Roadrunner website.