UTSA launches Latino-focused demography program this summer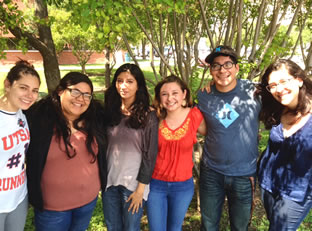 Share this Story
(June 11, 2014) -- Latino undergraduate students from across South Texas will spend the next five weeks at UTSA in an intensive academic training program on the basics of demography and the social sciences.
Earlier this year, the UTSA Department of Demography in the College of Public Policy received funding from the Population Association of America to create a special training program to recruit undergraduate Latino students into social sciences doctoral programs with a particular focus on demography.
UTSA was one of only two programs in the United States that received this funding. A similar program is underway at the University of North Carolina, Chapel Hill, with a focus on African-American student recruitment.
"By selecting UTSA to spearhead its Latino-focused initiative, the Population Association of America is recognizing UTSA for its top-tier educational endeavors and its dedication to research," said Joachim Singelmann, chair of the UTSA Department of Demography.
Corey Sparks, assistant professor of demography, is the lead instructor for the program in social demography and public policy. Students will be provided with free housing and a financial stipend. At the end of the program, they also will receive academic credit that will transfer back to their home institutions.
Demography faculty will provide expert insight into UTSA's demography specialty areas, such as health and health disparities, poverty, population policies, the population of Mexico, race and ethnicity, and international population trends.
Students will learn the basics of demographic and statistical analysis and research methods. They will work closely with demography faculty members and resident graduate students to develop a formal research project. The completed research projects will be presented at the Southern Demographic Association annual meeting in Memphis later this year.
"By allowing these young scholars to see first-hand that amazing scope of work being conducted at UTSA, we hope they will be inspired to attend graduate programs in the field and diversify the nature of scientific investigation," said Sparks.
------------------------------
For more information about the Social Demography and Public Policy summer program, contact Corey Sparks at 210-452-2334.
Go online to learn more about the UTSA College of Public Policy and the UTSA Department of Demography.
Connect online with UTSA at www.facebook.com/utsa, www.twitter.com/utsa, www.youtube.com/utsa and www.instagram.com/utsa.