UTSA Summer Law School Preparation Academy celebrates 13th year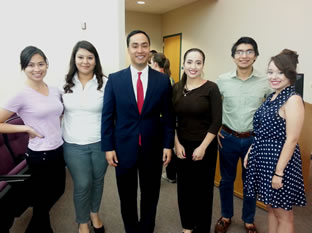 Share this Story
(June 23, 2014) -- The UTSA Summer Law School Preparation Academy (SLSPA) celebrated its 13th session at this year's opening ceremony at the UTSA Downtown Campus. The Institute for Law and Public Affairs hosts the academically intensive program annually, allowing university students to earn 12 credit hours over 10 weeks in courses that introduce them to the rigors of law school and prepare them for the challenges of the Law School Admissions Test (LSAT).
The SLSPA is credited with helping students gain admission to and excel in law schools across the country and with establishing UTSA as a pipeline for law schools seeking bright, well-prepared students who historically have been under-represented in law school.
The opening day ceremony featured presentations from legal experts, judicial officials, faculty and alumni of the SLSPA program. Guest speakers included Justice Patricia Alvarez, Fourth Court of Appeals for the State of Texas; Michael DeLeon, Bexar County assistant district attorney; David Hinojosa, southwest regional counsel of the Mexican-American Legal Defense and Education Fund; Justice Sandee Marion, Fourth Court of Appeals for the State of Texas; Judge Jason Pulliam, Bexar County Court #5; and the U.S. Rep. Joaquin Castro. Guest speakers shared their experiences and advice with the 2014 class of SLSPA students.
Justice Alvarez focused on upcoming challenges in students' lives. "No matter how difficult the situation is and even if you fall down, have the power to get up and try one more time," she said. "You should gather strength to overcome obstacles and succeed."
Rep. Castro also encouraged students with his message: "When I was at Harvard, I realized that my classmates were no different from those peers who had attended Jefferson High School with me. They were as smart as my high school peers. Don't be intimidated. Have confidence in yourselves that you are smart and have what it takes to succeed academically and in life."
Academy students are at several stages of their academic studies and include UTSA sophomores, juniors, seniors and graduate students as well as students from Texas A&M, UT Austin and St. Mary's University.
The SLSPA was developed by UTSA faculty in conjunction with the University of Texas School of Law to enhance pre-law educational opportunities and increase the number of Texas students who gain admission to and excel in high-quality law schools. SLSPA graduates have gained admission to more than 150 law schools including Harvard, Columbia, NYU, Michigan, UC Berkeley, University of Chicago and the University of Texas at Austin.
------------------------------
For more information about the UTSA Institute for Law and Public Affairs, email Ana Alvarez or call 210-458-2992.
Connect online with UTSA on Twitter, Facebook, YouTube and Instagram.