UTSA hosts Monterrey Tech students for summer research program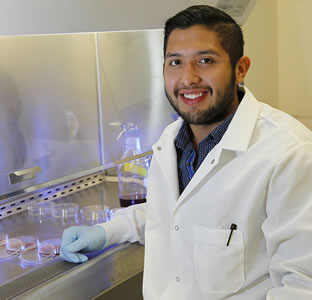 Share this Story
(June 11, 2014) -- This summer, UTSA welcomes 11 undergraduate students from Tecnológico de Monterrey to participate in an inaugural research immersion program. The six-week program gives talented Mexican students the opportunity to study abroad and engage in the creation of knowledge with high-profile UTSA faculty researchers in their chosen field of study.
This top-tier program is the first opportunity that has resulted from a 10-year agreement signed between UTSA and the Tecnológico de Monterrey System in March. The agreement opens a pathway for students and faculty from the universities to participate in education, research and cultural exchange programs between the two institutions.
"It is the goal of UTSA to raise our international profile and reputation by building bridges between UTSA and top institutions around the world with a special emphasis on Latin America," said René Zenteno, UTSA vice provost for international initiatives. "These promising Mexican students will greatly benefit from their research and mentorship experiences in this stellar research internship program developed by UTSA. At the same time, UTSA will greatly benefit from our interactions with these international students and our continued collaboration with such a prestigious university as the Techológico de Monterrey."
Coordinated through the UTSA Office of International Programs and UTSA Office of Undergraduate Research (OUR), students and participating UTSA research faculty are matched by interest and will work together throughout the program. It includes training seminars, cultural engagement activities and professional development to round out the students' experience. Upon completion of the program, the students will receive a certificate from UTSA and receive 20 hours of course credit from their home institution.
"We hope to expand this program in the coming years and showcase the top-tier research opportunities at UTSA so that we become a natural choice when these bright young researchers look at graduate programs," said C. Mauli Agrawal, UTSA vice president for research.
Tecnológico de Monterrey is one of the top universities in Mexico with a strong emphasis in research and has a reputation for attracting and producing highly talented students in the fields of science, technology, engineering and math.
Juan Carlos Rivas Rodriguez, a fourth-year student at Tecnológico de Monterrey, is interested in infectious diseases and is studying with UTSA assistant professor of biology Mark Eppinger.
"This is my first time doing research abroad and I'm looking forward to comparing and learning how life and work is like at another university," Rodriguez said. "I want to learn as much as I can and contribute to the research being done at UTSA, and then bring that knowledge back home to help there."
------------------------------
Learn online about the UTSA Office of Undergraduate Research and the UTSA Office of International Programs.
Connect online with UTSA on Twitter, Facebook, YouTube and Instagram.