UTSA Athletics unveils 2014 soccer schedule with eight home games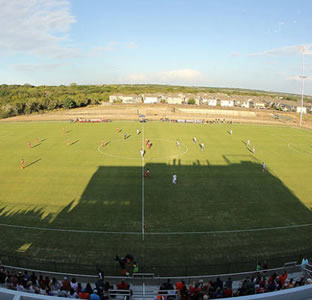 Share this Story
(June 26, 2014) -- UTSA interim head soccer coach Greg Sheen announced Wednesday his program's 2014 schedule, which features eight home fixtures and a 10-match Conference USA slate.
"We're very excited to take on the challenges that this schedule will present," Sheen said. "I believe that our non-conference opponents will help us grow as a team and prepare us for Conference USA play. We'll see a lot of our C-USA opponents for the first time, but I'm confident that this team will put in the work and be successful both on and off the field this fall."
Following an exhibition match against Incarnate Word on Aug. 17, the Roadrunners will open their ninth season of play Aug. 22, when they host Houston Baptist at Park West Athletics Complex.
UTSA then will begin a stretch in which it will play seven of the next nine tilts on the road. The swing starts with matches at Sam Houston State (Aug. 24) and Kansas (Aug. 29), before returning home to face another former Southland Conference foe, McNeese State (Sept. 5). After a clash with the Cowgirls, the Birds will hit the road again for contests at SMU (Sept. 7), Texas A&M-Corpus Christi (Sept. 12) and I-35 rival Texas State (Sept. 14).
The Roadrunners then will host Baylor (Sept. 19) for the second time in the last three seasons before opening their second season of C-USA play on the road against UAB (Sept. 26) and Middle Tennessee (Sept. 28).
The month of October will begin with a pair of home matches against Rice (Oct. 3) and North Texas (Oct. 5). UTSA then will hit the road for three consecutive tilts at Marshall (Oct. 10), league-newcomer Western Kentucky (Oct. 12) and UTEP (Oct. 19) before closing the regular season with home contests versus FIU (Oct. 24), Florida Atlantic (Oct. 26) and Southern Miss (Oct. 30).
In all, the Roadrunners will meet five of its 10 league foes for the first time in program history (FIU, Marshall, Middle Tennessee, UAB and Western Kentucky).
The C-USA Tournament is scheduled to be played Nov. 5-9 at Transamerica Field in Charlotte, N.C.
------------------------------
Download the UTSA soccer schedule for 2014. For more information, visit the UTSA Athletics website.
Connect online with UTSA on Twitter, Facebook, YouTube and Instagram.
This story was republished courtesy of UTSA Athletics.