UTSA moves statue inside to protect it from the weather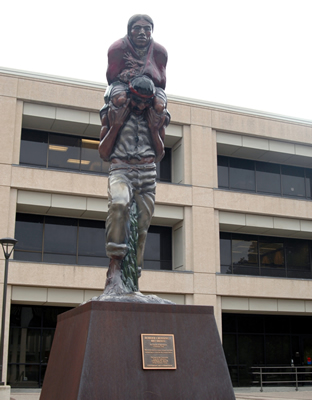 Share this Story
(June 23, 2014) -- A statue at the Sombrilla Plaza on the UTSA Main Campus is being moved inside to protect it from the weather. Formerly overlooking Sombrilla Plaza, the "Border Crossing" statue by renowned artist Luis Jimenez recently was moved to the University Center second floor. The piece is strikingly framed by a window overlooking the UC paseo.
An additional familiar work by Jimenez, "Fiesta Dancers," will be moved in the near future to the opposite end of the UC second-floor atrium. The statue currently is outside the UC north entrance.
Both pieces were loaned to the university from the William Atwell family collection in 1996. They were purchased for the UTSA Art Collection in September 2012.
Jimenez was born in El Paso and resided much of his life in Hondo, N.M., before his death in 2006. He received a bachelor's degree in art and architecture from the University of Texas at Austin.
Jimenez is known nationally and internationally for his large-scale sculptures depicting ordinary people. He worked with themes such as the treatment of Native Americans and the elderly, drawing on his youth for inspiration. He participated in numerous one-person exhibits in New Mexico and received commissions for his work in Corpus Christi, New York and Denver.
"We are fortunate to have these statues as part of the UTSA Art Collection, and we are excited to be able to share them with the UTSA and San Antonio communities," said curator Arturo Infante Almeida. "Mr. Jimenez was such a talented artist whose work is well known worldwide. There continues to be great interest in his art."
------------------------------
Learn more at the UTSA Art Collection website or call Arturo Infante Almeida at 210-458-4983.
Connect online with UTSA on Twitter, Facebook, YouTube and Instagram.