UTSA is San Antonio's summer camp destination for children and teens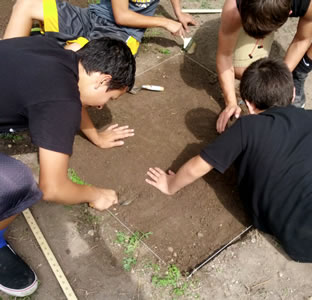 Share this Story
(June 9, 2014) -- As San Antonio's summer camp destination, UTSA will offer 23 camps in June and July on a range of topics including science, engineering, architecture, sports, music, writing and language for children and teens. The camps help students expand their horizons through hands-on activities and open their minds to opportunities in higher education.
Some camps are free daylong programs, others last a week or two, and some go through the summer. But each offers participants the chance to have fun, make friends and learn something new. For many attendees, it will be the first experience at a top-quality institution of higher education. More than 8,500 students will participate in camps throughout the summer.
Camps and academies opening or continuing this week include the Prefreshman Engineering Program, Destination Discovery, Legacy Archaeology, Interactive Technology Experience Center, Flute, Performing Arts, Writing and Sports Camps in football, basketball, baseball, men's tennis, soccer and volleyball.
Summer camp highlights for this week
The Prefreshman Engineering Program (PREP) involves achieving middle and high school students with an interest in science, technology, engineering and math (STEM) and provides an academic curriculum to increase their potential for careers in these areas.
The Summer Law School Prep Academy is a top-tier, pre-law program designed to increase the number of students who gain admission to and excel in quality law schools.
Science and engineering camps have sessions in rocks and volcanoes, human biology, bridge building, aviation, gadget building and deconstruction, LEGO machine building, green science, robotics, forensics and environment.
The Summer Academy in Architecture and Interior Design is about design disciplines and the careers of architects and interior designers.
With presentations and hands-on activities, the Archaeology of Africa camp will cover the cultural histories of Ancient Egypt, Roman occupations in Africa, the Great Kingdom of Zimbabwe, the Ghana Empire and more.
UTSA Athletics will present the Skills and Drills Camp to expose high school students to drill work, practice and evaluation in sports.
------------------------------
For details on costs, registration and other information, visit the UTSA Summer Camps website with a listing of all UTSA camps and links to find the one that's just right for you and your child.
Connect online with UTSA on Twitter, Facebook, YouTube and Instagram.
Share your summer camp photos @UTSA #UTSAcamps.