UTSA welcomes more young students to camps for look at higher education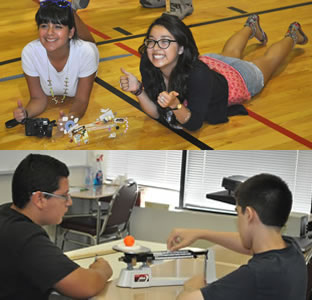 Share this Story
(June 16, 2014) -- This week, UTSA welcomes more young students to summer camps across the campuses. The camps help students expand their horizons through hands-on activities and open their minds to opportunities in higher education. More than 8,500 students will participate in camps throughout the summer.
Camps opening this week are the Prefreshman Engineering Program, Archaeology, Architecture, Writing and Flute, with camps continuing in athletics, sciences and performing arts.
As San Antonio's summer camp destination, UTSA is offering 23 camps in June, July and August on topics including science, engineering, architecture, sports, music, writing and language for children and teens.
Each camp offers participants the chance to have fun, make friends and learn something new. For many attendees, it is the first experience at a top-quality institution of higher education. Some camps are free daylong programs, others last a week or two, and some go through the summer.
Camp highlights for this week:
The Prefreshman Engineering Program (PREP), which has a record enrollment of 1,600 students this summer -- up nearly 35 percent over last year. The camp is for high-achieving middle and high school students interested in the science, technology, engineering and math (STEM) fields. The sessions provide an academic curriculum to increase students' potential for careers in these areas. Established in 1979 at UTSA by mathematics professor Manuel Berriozabal, PREP has an impressive track record with nearly 16,000 students completing at least one summer component. The program has been replicated across the state as TexPREP and across the nation as PREP-USA. Overall, PREP programs have served more than 34,000 students. The college attendance of PREP graduates is 80 percent.
The Office of P-20 Initiatives will coordinate a rocket launch science project with students on Friday, June 20.
The Summer Academy in Architecture and Interior Design is about design disciplines and the careers of architects and interior designers.
With presentations and hands-on activities, the Archaeology of Africa camp presented through the Center for Archaeological Research Legacy program will cover the cultural histories of Ancient Egypt, Roman occupations in Africa, the Great Kingdom of Zimbabwe, the Ghana Empire and more.
The San Antonio Writing Project Young Writer's Camp offers full and half-day sessions all week for incoming fourth through 12th graders who love to write. Session 2 is June 23-27.
------------------------------
For details on costs, registration and other information, visit the UTSA Summer Camps website with a listing of all UTSA camps and links to find the one that's just right for you and your child.
Share your summer camp photos @UTSA #UTSAcamps.
Connect online with UTSA on Twitter, Facebook, YouTube and Instagram.