Richard Garrett Jr., Keyunta Hayes lead UTSA at NCAA Championships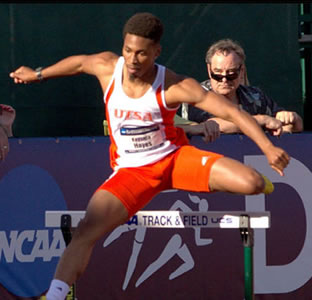 Share this Story
(June 13, 2014) -- All-American Richard Garrett Jr. finished fourth in the shot put and fellow All-American Keyunta Hayes advanced to the 400-meter hurdles final to lead the UTSA men's track and field team Wednesday in Eugene, Ore., during the opening day of competition at the NCAA Championships at historic Hayward Field.
Garrett Jr., who earned the third All-America certificate of his decorated career, registered his fifth school record of his final season as a Roadrunner on his fifth attempt of the night. The senior from Garland launched a measurement of 66-1 (20.14m), and that added three-and-a-quarter inches to his winning put at last month's Conference USA Championships. He qualified for the nine-man final with a semifinal heave of 64-2 ½ (19.57m), which came on his opening toss of the competition, and that was the fifth-best mark of the round.
Garrett Jr., who just missed a bronze medal by three-quarters of an inch, finished behind Texas' Ryan Crouser (69-3 ½/21.12m), Cornell's Stephen Mozia (67-1 ½/20.46m) and Georgia's Nick Vena (66-1 ¾/20.16m). His previous best national finish was 11th two years ago in Des Moines, Iowa.
"Although I had my sights set on winning the first national championship in school history, I can't complain about setting a PR in my final collegiate meet," Garrett Jr. said. "I gave it everything I had and that's all you can ask for. There is no shame in finishing fourth and this was a great way to end my career. I want to thank Coach (Aaron) Fox and Coach (Chris) Adams for taking a chance on me five years ago and helping develop me into the person I am today."
Meanwhile, Hayes earned an automatic spot in his specialty event after placing second in third semifinal heat, as he crossed the finish line in 50.68.
"Tonight wasn't easy, but my goal was to advance to Friday and that's what I was able to do," the Tyler native said. "Tomorrow will be an important day in terms of getting rest and formulating my game plan for the final. I've been working toward this moment for two years now, and I'm looking forward to representing UTSA to the best of my abilities. Hopefully, that means bringing a national championship back home with me."
Kansas' Michael Stigler clocked the evening's fastest time of 49.34 and he and Hayes will be joined by Nebraska's Miles Ukaoma (49.70), Colorado State's Trevor Brown (49.89), North Carolina's Rilwan Alowonle (50.40), LSU's Quincy Downing (50.55), Baylor's Timothy Holmes (50.56) and Stephen F. Austin's Josh Taylor (50.58) in Friday's final, which is scheduled for 6:33 p.m. (CT). It will be televised nationally on ESPNU.
Hayes, who finished fourth two years ago, will be in search of the first national title in UTSA athletics history.
Andrew Akens, the Roadrunners' other competitor of the night, finished with a measurement of 55-11 (17.04m) in the shot, but he was unable to advance to the final. However, the junior from Mesquite, who was making his first-ever appearance at the national meet, became the 12th All-American in program annals by earning honorable mention accolades by virtue of his 23rd-place performance.
"I'm proud of the job all three guys did today," head coach Aaron Fox said. "Richard's performance was a fitting end to an outstanding career, and I'm looking forward to Keyunta finishing his season strong in Friday's final. Those two sacrificed a year for the program last season and performing well at the national meet is a great reward for them."
------------------------------
Read more and view a photo gallery at the UTSA Athletics website.
Connect with UTSA Athletics on Twitter and Facebook.
Connect online with UTSA on Twitter, Facebook, YouTube and Instagram.
This story was republished courtesy of UTSA Athletics.