UTSA conference to focus on economic development in rural communities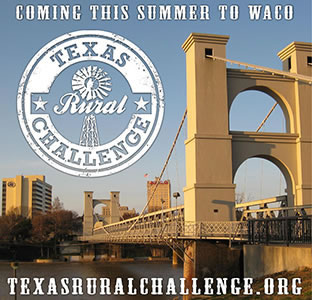 Share this Story
(June 5, 2014) -- The UTSA Small Business Development Center Rural Business Program, the Governor's Small Business Forum, Texas Workforce Commission and the Heart of Texas Council of Governments (HOTCOG) will host the fifth annual Texas Rural Challenge June 19-20 at the Waco Convention Center and Hilton Waco.
The Texas Rural Challenge was created in 2009 through a partnership between UTSA and the Office of the Governor and was designed to organize a statewide conference to address the needs and challenges facing rural Texas.
"UTSA is proud to host an event such as the Texas Rural Challenge," said Robert McKinley, UTSA associate vice president for economic development. "UTSA's presence and work with rural communities and small businesses throughout South and West Texas have allowed us to develop best practices and an understanding of rural issues that we can translate into a conference like the TRC."
According to 2013 estimates, Texas has the largest rural population in the nation with more than three million rural residents. The conference is the first of its kind to focus on rural Texans and will feature several keynote speakers including:
Christi Craddick, commissioner, Texas Railroad Commission
Ben Winchester, research fellow, Extension Center for Community Vitality, University of Minnesota
Diane Smith, Mobile Future
Michael Fortunato, director, Center for Community and Business Research, Sam Houston State University
"On behalf of HOTCOG and the Heart of Texas Economic Development District, we welcome everyone to the Heart of Texas Region," said HOTCOG Executive Director Russell Devorsky. "With 80 percent of the population of the state within just a few hours of here, and as we are the center point of the NAFTA Highway, it is only natural that a conference focusing on rural economic and community development should be held here."
Additionally, the conference will offer breakout sessions in three tracks: Business and Economic Development, Community Development and Statewide Rural Issues. Breakout session topics include, but are not limited to, rural entrepreneurship, economic development, Texas shale revolution, heritage and tourism, infrastructure, youth development, community resilience, health care and housing.
"It is more important than ever for the rural community to be involved and in the know.  With all of the activity going on in Texas at the moment, the rural population needs to stay engaged and the Texas Rural Challenge provides an excellent opportunity for them to do that," said Gilbert Gonzalez, UTSA SBDC rural business program director.
Two new additions to the conference are the Texas Student Challenge, a business plan competition for college students geared to business ventures and innovative technologies that will benefit rural communities, and the Texas Strong Competition, which features eight SBDC client finalists selected from across the state to participate in a $1,000 grand prize, fast-pitch competition. Learn more at the Texas Small Business Development Center website.
------------------------------
Registration closes June 16; register at the Texas Rural Challenge website. View the conference agenda.
Connect with the UTSA Institute for Economic Development on Facebook and Twitter.