UTSA students and staff attend UT-Austin Male Student Leadership Summit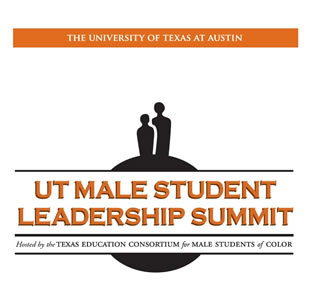 Share this Story
(July 3, 2014) -- UTSA students and staff recently attended the two-day 2014 University of Texas at Austin Male Student Leadership Summit, hosted by the Texas Education Consortium for Male Students of Color.
UTSA students Francis Garner, a senior business management major, and Alvin Curette, a graduate student in the UTSA College of Education and Human Development, Gaston Cantu of the San Antonio Pre-Freshman Engineering Program and staff members from the Tomás Rivera Center including Tracy Lawson, Scott Williams, Javier Cervantes and Bonita de Leon represented San Antonio and UTSA at the summit.
The summit brought together emerging student leaders from across the state. It featured workshops for students and professionals focused on building leadership and networking skills among young men of color, including best practices, leadership strategies and professional career development.
The two keynote speakers were Marco Davis, a representative from the White House Initiative on Educational Excellence for Hispanics, and Luis Ponjuan, an associate professor in the College of Education and Human Development at Texas A&M University.
The strategies and ideas presented at the summit will be used to plan the UTSA Men Achieving Leadership and Excellence (MALE) Summit in 2015. The first MALE Summit was held in January, as part of a LeaderShape Vision initiative by Marston Jefferson, a UTSA student who wanted to create an opportunity for male students focused on academic success and leadership
-------------------------------
For more information about the UTSA Student Center for Community Engagement and Inclusion, visit http://www.utsa.edu/inclusion, call 210-458-4770 or visit University Center 2.01.04. For more information about the UTSA MALE Summit, contact Francis Garner at francis.garner@utsa.edu.
Connect online with UTSA on Twitter, Facebook, YouTube and Instagram.