Works of UTSA alumni featured in exhibit at Crystal Bridges art museum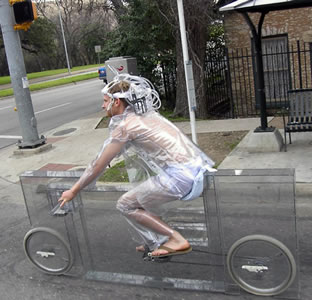 Share this Story
(July 30, 2014) -- UTSA M.F.A alumni Chris Sauter '96 and Jimmy Kuehnle '06 were selected to include their work in the exhibition, "State of the Art: Discovering American Art Now." The exhibit will run Sept. 13-Jan. 19 at the Crystal Bridges Museum of American Art in Bentonville, Ark. The featured works are on canvas and paper, and also include photography, installation, sculpture and ceramics.
Sauter is a San Antonio native who has exhibited his paintings nationally in New York, Houston, Dallas, Los Angeles, Wisconsin and Arizona, and internationally in France. He earned a bachelor's degree at the University of the Incarnate Word in San Antonio and a master of fine arts degree at UTSA. In 1999, he was chosen to participate in the Artpace international artist residency. Sauter lives and works in San Antonio.
In his work, Sauter explores the links between biology and culture, present and primordial, and the personal and the universal. He transforms common objects into other recognizable objects, shifts scale to the extreme, and juxtapositions disparate materials and images.
Kuehnle is a Cleveland-based sculpture and performance artist. For the Crystal Bridges exhibit, he created an installation at the pond outside the galleries. Specializing in inflatable sculpture and street art, his work has been in group and individual shows in San Antonio, Dallas, Houston and across Texas, and in Ohio, New York, Kansas, Michigan and Missouri. Internationally, his work has been shown in Japan and Finland.
Recently, Kuehnle was a world-artist-in-residence with SPACES in Cleveland and previously served in residencies in Utica, N.Y., and Vaasa, Finland. In 2008, he was a Fulbright Graduate Research Fellow in Japan. Kuehnle earned a B.F.A. in sculpture at Truman State University in Kirksville, Mo., and an M.F.A. in sculpture, video and performance at UTSA.
"State of the Art" features more than 200 works by 102 artists selected from across the nation. Since 2013, the Crystal Bridges curatorial team logged more than 100,000 miles in search of compelling American art being created today by artists whose work has not been fully recognized on a national level. Many of the participating artists will host public programs including lectures, workshops and classes.
Opened in 2011, Crystal Bridges was founded by the Walton Family Foundation as a nonprofit organization for the public. The museum takes its name from a nearby natural spring and the bridge construction incorporated in the building, designed by world-renowned architect Moshe Safdie. Pavilions around two spring-fed ponds house galleries, meeting and classroom spaces, and a large, glass-enclosed meeting hall. Sculpture and walking trails link the museum's 120-acre park to downtown Bentonville.
The museum's permanent collection spans five centuries of American masterworks ranging from the Colonial era to the present with works by Georgia O'Keeffe, Norman Rockwell, Andy Warhol, Asher B. Durand, John Baldessari and James Turrell.
------------------------------
For more information, visit CrystalBridges.org.
Connect online with UTSA on Twitter, Facebook, YouTube and Instagram.