Faculty and staff: Annual Enrollment Benefits Fairs are Thursday, July 10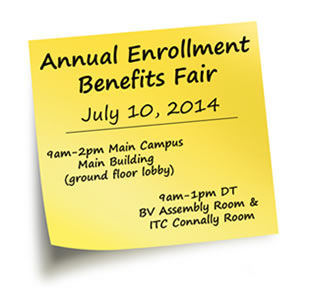 Share this Story
(July 8, 2014) -- UTSA Annual Enrollment for employee benefits is July 15-31. To help faculty and staff members prepare for benefits enrollment, there will be two Annual Enrollment Benefits Fairs on Thursday, July 10.
At the Main Campus, a fair will be 9 a.m.-2 p.m. July 10 at the Main Building ground-floor lobby.
At the Downtown Campus, a fair will be 9 a.m.-1 p.m. July 10 in the Buena Vista Street Building Assembly Room (1.338).
Additionally, employees can attend a 45-minute presentation on July 10 at the Main Building, Frio Street Building or Institute of Texan Cultures. One session in the Main Building will be conducted in Spanish. The presentations will provide details about enrolling and changes to benefits for the new fiscal year. There will be light refreshments and door prizes at each session. For locations and times, register for a presentation at the MyTraining website.
------------------------------
For more information, email the Human Resources Benefits Office or call 210-458-4250 (automated system).
Connect online with UTSA on Twitter, Facebook, YouTube and Instagram.