Meet a Roadrunner: Evin Eiteljorge uses UTSA service learning to meet immigrant children's needs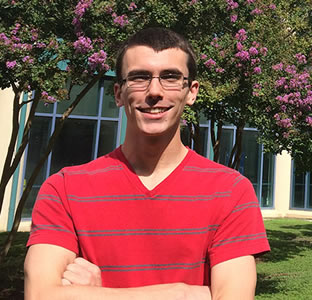 Share this Story
(July 2, 2014) -- Meet Evin Eiteljorge. He's part of a group of students who sees a need in the community and acts.
A graduate student in the College of Education and Human Development, Eiteljorge and his service-learning class of five students have recently taken steps to help with the surge of unaccompanied immigrant children who've recently found their way to the border
"We saw it as a global need and we also saw it as something we didn't know much about," he said. "This service-learning project helps both us and the community."
As part of the project, the class researched various issues facing the community that they could learn more about, while finding ways to help with the issue.
"We started going through a bunch of newspapers looking to see what the problems are in the community. From there things started snowballing," Eiteljorge said.
They contacted local agencies helping with the surge and visited a shelter at Joint Base San Antonio Lackland to gauge the children's needs. They've started collecting donated items in the Department of Interdisciplinary Learning and Teaching for the children, including items such as hygiene products, stuffed animals, arts and crafts supplies and journals.
"Our class is a very diverse group and it's nice that we can come together on an issue and want to do something about it," Eiteljorge said. "We really want to do as much as we can."
Their project is led by Elizabeth Pate, who Eiteljorge says has been instrumental in helping them through the process.
"Our professor, Elizabeth Pate, is an incredible person. While she is fluid in letting us direct the class, she always keeps us oriented in the right direction, even if we don't realize it," he said.
Eiteljorge plans to become a high school chemistry teacher after he graduates from UTSA with his master's degree next fall. He says service-learning, a UTSA priority, is one of the most critical things he wants to pass on to the next generation.
"I think it's incredibly important because we don't live in isolation. We live in a community and I think it's important for students to know how important they are to the community and how important the community is to them," he said.
------------------------------
Do you know someone at UTSA who is achieving great things? Email us at social@utsa.edu, and we will consider your submission for an upcoming installment of Meet a Roadrunner.
Read the stories of other UTSA students, faculty, staff and alumni on the Meet a Roadrunner website.