Foster youth learn about higher ed, careers at Independence Day conference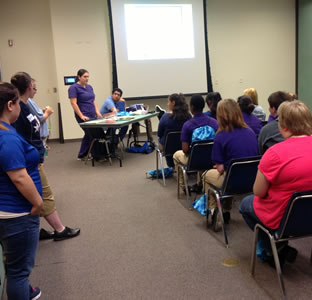 Share this Story
(July 3, 2014) -- More than 100 foster youth visited the UTSA Downtown Campus to learn about higher education opportunities and future career paths at the 15th Annual Independence Day Youth Conference.
Independence Day is traditionally synonymous with fireworks, family and parties; however, it takes on a completely different meaning when it comes to children in foster care. This year's conference supported youth aging out of foster care with their transition into independence and adulthood.
UTSA sociology professor Harriett Romo welcomed the visitors and told students about various UTSA degree programs and transfer partnerships in place with the Alamo Colleges.
This year's theme, "Become A Super Hero," encouraged foster youth to think about one thing in which they excel and to consider if they could incorporate that asset into a future career.
The foster youth attended workshops about a variety of fields including industrial careers, allied health careers, public service careers and arts and sciences careers. Participants heard from pipefitters, plumbers, dental hygienists, police officers, firefighters and video game designers.
In the afternoon, the adult foster youth in attendance were encouraged to voice their opinions about what needs to be changed in the foster care system at a "Life After Foster Care" panel event.
Panelist Arely Montoya, a 19-year-old from El Paso, entered the foster care system when she was 17 with her brothers who were nine and 10. Montoya stayed in foster care for a year and then moved to San Antonio to pursue a college education. She attended Northwest Vista College for a year and plans to transfer to UTSA in the fall to study communication.
"I would tell the foster youth not to be scared because there are resources out there with benefits," said Montoya. "Be patient and look towards your goal. There are many organizations out there to help you."
The conference was hosted by the Bank of America Child and Adolescent Policy Research Institute (CAPRI) at UTSA and BCFS Health and Human Services.
In 2011, CAPRI received a three-year $600,000 HUD grant, which was used to create programs to encourage and assist foster youth through the college planning process. The grant also allowed for the creation of the Assistance in College Completion, Employment and Socioeconomic Success (ACCESS) Center and commuter lab. The ACCESS Center, located in Monterey Building Room 2.260 at the UTSA Downtown Campus, serves as a central hub where youth can get assistance with college readiness, time management and helpful resources for everyday problems.
BCFS Health and Human Services is a global system of health and human service nonprofit organizations with locations and programs throughout the United States, Eastern Europe, Latin America, Southeast Asia and Africa. BCFS also provides residential and emergency services, assisted living services, medical services, transitional living services, residential camping and international humanitarian aid throughout the globe.
------------------------------
Connect online with UTSA on Twitter, Facebook, YouTube and Instagram.