Training class helps you understand four generations in the workplace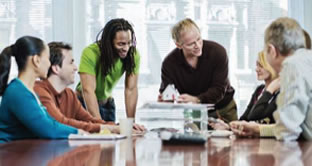 Share this Story
(July 2, 2014) -- Have you ever wondered about the similarities and differences in work and communication styles among the generations? Then, the class, SD318 Four Generations at Work, could be a great opportunity for you. It will be presented from 8:30 a.m. to noon, Wednesday, Aug. 6.
Offered at no charge to UTSA faculty and staff members by the Office of Human Resources Training and Development, the class will explore four distinct generations at work -- Matures, Baby Boomers, Generation Xers and Millenials.
Activities will focus on:
Defining moments and influential people
Characteristics, values and motivators
Strengths and blind spots
Teamwork and communication
It is a fun and informative opportunity to understand how the different generations approach life in and out of the office -- and how everyone can improve teamwork and communication.
------------------------------
For more information, contact Training and Development at 210-458-4658.
To register for SD318 Four Generations at Work, visit the MyTraining website.
Connect online with UTSA on Twitter, Facebook, YouTube and Instagram.