Hispanic Women's Network of Texas awards scholarships to five UTSA students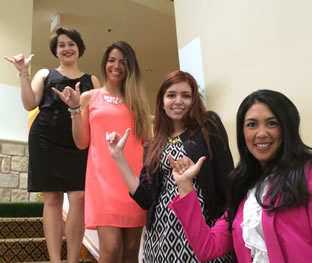 Share this Story
(July 9, 2014) -- The San Antonio Chapter of the Hispanic Women's Network of Texas (HWNT) recently hosted its 10th annual scholarship breakfast and honored scholarship award recipients including five young women from UTSA. This year, the HWNT awarded $22,500 in scholarships to 13 students who completed three Latinas in Progress program sessions, which offer personal and professional development.
Five UTSA students received scholarships totaling $10,000. The awards and awardees are:
Hispanic Women's Network Scholarship
Carelli De La Garza Torres, marketing and international management
Alexandra Flores, marketing and music
Adriana Marie Tabler, engineering (incoming student)
The Ana Maria Compean Ph.D.
Venus Vela Medina, education (Ph.D.)
Wise Latina Scholarship
Adrian Roosse Gee, nursing
H-E-B Scholarship Award
Carelli De La Garza Torres
For more than 20 years, the HWNT has supported Hispanic women by providing generous scholarships in the community. The San Antonio chapter seeks to award scholarships to graduating high school seniors, undergraduate, master and Ph.D.-level students, which include both traditional and non-traditional students.
The HWNT program Latinas in Progress supports and prepares Hispanic women attending college. The goal of the program is to help more Hispanic women complete a college degree. In the last four years, more than 350 women participated in the LIP program.
The program sessions include:
Assertiveness training
Communication skills
Culture and civism
College preparation
Writing skills
Health/Self-care
Professional development
Parent engagement and support
The UTSA scholarship recipients participated in the Latinas in Education program and plan to make a difference by serving others.
Venus Vela Medina, a first-generation college student and second-year doctoral student in educational leadership and policy studies, credits her parents with inspiration to continue her studies and pursue her career in education. She is determined to "take charge of her destiny," and with her education, plans to "be in a position where I could encourage and influence others regarding their plans for a productive future of opportunities."
Carelli De La Garza Torres says her challenge was overcoming tough conversations with her grandfather about leaving Mexico to pursue her education in the United States. "This scholarship is an honor and a blessing," she said. "The scholarships I received were a great accomplishment for me and my loved ones. I am delighted to know that more people believe in my potential and grant me the opportunity to continue doing my best and making everyone proud."
HWNT member and UTSA equal opportunity investigator Nina Sosa said, "Being a first-generation Latina college graduate, it brings me such joy and pride in seeing the next generation of Latinas achieve their dreams in the pursuit of higher education. Now, as a professional Latina woman in higher education and in the workforce, I have the wonderful opportunity to pay it forward."
A national 501(c)(3) organization, the HWNT will host its 28th annual state conference, Leadership Development: Mission of Excellence, in San Antonio Oct. 24-26 at the Hilton San Antonio Airport hotel.
------------------------------
For more information on scholarship opportunities or membership, visit the Hispanic Women's Network of Texas website.
Connect online with UTSA on Twitter, Facebook, YouTube and Instagram.