UTSA community members talk about what they like to do July 4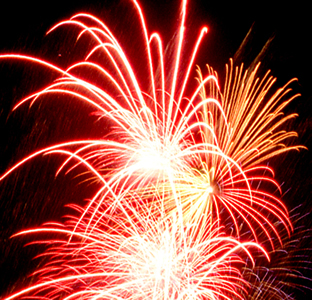 Share this Story
(July 3, 2014) -- What special things do you do with family and friends during the July 4 holiday?
Here's what several members of the UTSA community said:
Ruth Coates, administrative services officer in the Office of the Associate Dean of Students, said that she and her family aren't that into fireworks.
"Our family, including my children and grandchildren, usually goes to the beach at Padre Island or Mustang Island. If we happen to see some fireworks, that's great, but we don't hunt for them," she said. "We did that more when my children were small."
"But, as we drive down to the beach, I like to take photos of the American flag. We see a lot of them on the way, and I have a collection of flag photos. I enjoy looking at them, and it makes me think about our freedoms. My son-in-law teaches history at a high school, and we talk a lot about the history of the country and Texas history. It makes me think about how lucky we are and how many sacrifices were made for the sake of our country."
Student Jerry Martinez, a multidisciplinary studies major, says he and his family gather in his hometown Carrizo Springs, which is close to Laredo. Because they live outside of town, they can do fireworks safely.
"We always cook out with family and friends," he said. "It's not a bunch of people, but we always enjoy the fireworks. For us, it's not a really loud event, but it's a great time to be together and to relax out in the country."
George Norton, UTSA associate vice president for admissions, says he and his family stay in San Antonio over the July 4 holiday, but the goal is to find a different place each year to view fireworks.
"We've gone to a couple of air bases and other places around town," he said. "I've discovered a great vantage point to observe the Fiesta Texas fireworks this year, but I'm not going to divulge the location because then everyone else will go there."
He and his family always cook out, and then they go in search of a new event.
Senasha Chatmon, a senior studying information systems, is from Houston, but over July 4, her parents and brother come to visit her here in San Antonio. They have a barbeque, and she invites her friends to join the party. Later, they all go Six Flags.
"I always look forward to it. I guess we don't really talk about the significance of July 4, but it's a special time to be with my family and friends," Chatmon said.
------------------------------
Tell us what you're doing on the Fourth of July. Connect online with UTSA on Twitter, Facebook, YouTube and Instagram.