Meet a Roadrunner: Jesus Figueroa Alcantar is leader in native community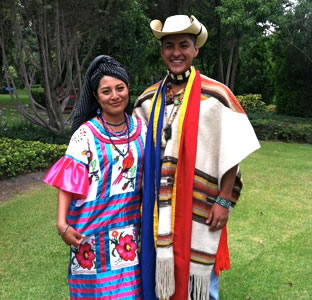 Share this Story
(July 9, 2014) -- Meet Jesus Figueroa Alcantar. He is the first student from Texas to participate in the Leadership Program for Indigenous Youth at Universidad de las Américas Puebla (UDLAP).
Jesus considers himself a Native Mexican because his grandparents were P'urhépecha, native to the Mexican state of Michoacan. He moved to San Antonio when he was very young, but he has always held on to his indigenous roots.
An anthropology major and founder of the UTSA Native American Student Association, Jesus is an active member of his Native American church, volunteers in his community and participates in dances and other tribal ceremonies both locally and nationally.
"We are very proud of Jesus' accomplishments, in particular as a young community leader," said Rene Zenteno, UTSA vice provost for international initiatives. "At UTSA, we are committed to expanding our efforts to support first-generation college students to have an international experience in order to increase their knowledge and horizons."
UDLAP's four-week leadership program provides participants with tools and knowledge primarily in public policy and entrepreneurship in order to solve problems in their native communities. The 38 students in this summer's program were from Bolivia, Ecuador, Guatemala, California, Texas and Mexico.
"The most valuable part of the experience was the strong friendships I made and what I learned from the other students in the program," he said. "We would talk politics or culture and share about each other either over a meal or at night after class. We would share songs, phrases in our native languages and stories. It's rare to meet young people who are proud of their indigenous roots so to meet and network with the others in the program was amazing."
The leadership program helps the participants learn how to recognize problems in their communities and create change from within rather than expecting solutions to come from the outside.
In his own Native American community, Jesus sees that many people, particularly youth, deny their own culture because it has been looked at as inferior for so many generations. Other problems include access to education and drug use.
Jesus is passionate about bringing people together to work in harmony with one another.
"One thing that all indigenous people from all over must do is to help young people become proud of their identity and culture and find that balance between modernity and being traditional," he said. "We have to find ways to work together and unite instead of fighting amongst ourselves."
------------------------------
Do you know someone at UTSA who is achieving great things? Email us at social@utsa.edu, and we will consider your submission for an upcoming installment of Meet a Roadrunner.
Read the stories of other UTSA students, faculty, staff and alumni on the Meet a Roadrunner website.