What can you do for fun on July 4? Here's a list of community events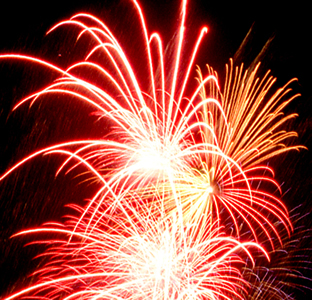 Share this Story
(July 4, 2014) -- If you can't figure out what to do on Independence Day July 4, here are a few of the big activities happening in San Antonio from downtown to Helotes. You'll find fireworks, food, theme park rides, arts and crafts, a community band performance, river rides and a red-white-and-blue parade.
Here are some of the local activities:
Six Flags Fiesta Texas July 4th Fest
For fireworks and family fun, enjoy the celebration.
By day, stroll the park snacking on scrumptious treats such as churros, ice cream sundaes and funnel cakes, then gaze at the fireworks shows and dance to live music under the warm summer skies. For more information, visit the
Six Flags Fiesta Texas
website.
River Walk Fourth of July Arts and Crafts Show
From 11 a.m. to 8 p.m., July 3-6, find unique handmade merchandise at the arts and crafts show. Whether its jewelry, pottery or fine art you like, you'll probably find what you're looking for. Enjoy a stroll along the River Walk and take home an item to enhance your home, wardrobe or garden.
San Antonio Chamber of Commerce Stars and Stripes Over San Antonio
From 6 to 10 p.m. July 4, there will be live music, vendor food and drinks, and activities for the children downtown at the Alamodome. Admission is $2, free for active-duty military and those under age 12. A 20-minute fireworks display will begin at 9:30 p.m. with on-air music from Q101.9 FM. Before the show, The Klocks will perform and a Clear Channel Media Zone will present disc jockeys spinning popular songs. Alamo Street will be closed between César E. Chávez Boulevard and Market Street to accommodate pedestrians. For more information, visit the event's Facebook page.
Helotes Independence Day Celebration, July 5: Helotes Area Community Band
At the free local event beginning at 6:30 p.m., Saturday, July 5, listen to patriotic music by the community band, which includes UTSA community members. There will be fireworks at dusk, along with free hot dogs, ice cream and apple pie while they last. Bring blankets and lawn chairs, and you can bring your own food and beverages, too. The event is at the Helotes Municipal Complex, 12951 Bandera Rd. For more information, visit the City of Helotes website or call 210-695-5911 or 210-275-7152.
SeaWorld San Antonio Fireworks
A big fireworks display will be at 9:45 p.m. July 4-6 at the park's Ski Lake. The fireworks display is included with park admission and includes live music before the show. Learn more at SeaWorld.com for schedules and show times. Admission is free for active duty military.
Rio San Antonio Cruises All-American Kid's Zone
Children are sure to have a ball in the Rio San Antonio Cruises All-American Kid's Zone, which will feature carnival rides and games. Kids ages 4 to 11 can enjoy free select rides from noon to 1:30 p.m. More than 20 vendors will offer food and beverages for sale throughout the day.
Salute to the Red, White and Blue Parade
Dress up in your finest patriotic costume and participate in the popular Salute to the Red, White and Blue Parade, which starts at 11:30 a.m. To participate, gather at 10 a.m. at the Woodlawn Lake Gym at the intersection of Cincinnati and Alexander. Participants will be judged for best costume, most patriotic, best bike and best group.Winners will be announced on the mainstage at the ceremony following the parade.
City of San Antonio Official July 4th Celebration at Woodlawn Lake Park
There will be family activities, games, food and musical entertainment from 8:30 a.m. to 11 p.m., plus fireworks. Remember to use the designated recycling stations throughout the park. Learn more at the San Antonio Parks Foundation website.
Alamo Kiwanis Club Charities Fiesta Noche del Rio July 4 performance
The special performance is at 8:30 p.m. July 4 at the Arneson River Theater on the River Walk. For tickets, call 210-226-4651 or visit FiestaNocheSA.com.
------------------------------
Tell us what you're doing on the Fourth of July. Connect online with UTSA on Twitter, Facebook, YouTube and Instagram.