UTSA's Rudy Reyna receives Community Service Award from Hispanic Chamber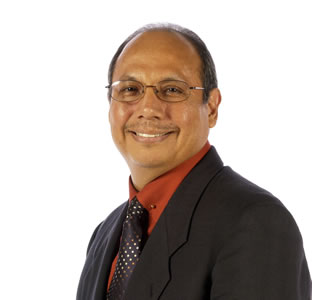 Share this Story
(July 24, 2014) -- Rudy Reyna, who oversees the Prefreshman Engineering Program (PREP) and TRIO programs at UTSA, received the Community Service Award from the San Antonio Hispanic Chamber of Commerce (SAHCC), presented at the 2014 Business Awards Dinner on July 17.
"We are honored to recognize and congratulate these outstanding business leaders in our community," said SAHCC President and CEO Ramiro Cavazos, lauding nine honorees from different categories. "Their dedication to our city's economic well-being has helped develop San Antonio into the great city that it is."
A San Antonio native, Reyna graduated from South San Antonio High School before obtaining a bachelor's and doctorate from Texas A&M University, as well as a master's degree from Columbia University. As the executive director of PREP, Reyna heads a challenging academic program designed to motivate and prepare middle and high school students for success in advanced studies leading to careers in the STEM fields -- science, technology, engineering and mathematics. Because of their historical underrepresentation in STEM fields, PREP provides special outreach to Hispanics, African-Americans, Native Americans and females.
Reyna also leads the federally funded TRIO programs, dedicated to helping first-generation, low-income students succeed in their precollege performance and higher education pursuits.
Jude Valdez, UTSA vice president for community services, said, "Dr. Reyna is an engaged member of the community, as he serves on various boards and committees aiming to better the lives of individuals and the community at large."
-------------------------------
For more information, visit the PREP USA and UTSA TRIO websites.
Connect online with UTSA on Twitter, Facebook, YouTube and Instagram.