Meet a Roadrunner: Alumna Shaheen Ashraf Qureshi earns E.M.B.A. and U.S. citizenship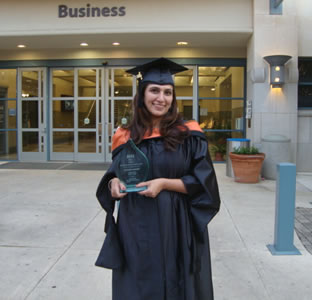 Share this Story
(July 16, 2014) -- Meet Shaheen Ashraf Qureshi '14. After coming to San Antonio in 2001 from Pakistan, she earned an Executive M.B.A. at UTSA just one day after attaining her U.S. citizenship.
In her native country, she earned a master's degree in Pakistani studies and had 10 years' management experience with government, private and nonprofit agencies. The best experience of her career there was with the United Nations Development Program. Established in more than 170 countries, the organization partners with people at all levels of society to help build nations that can withstand crisis and improve life for everyone.
She decided to pursue her dream of coming to the United States, earning a degree and becoming a citizen. With $2,000 from the sale of her car, she came to San Antonio because of recommendations from colleagues at Pakistani universities. She was able to get a job because a San Antonio businessman agreed to sponsor her work permit.
In the process, she saved money for graduate school at UTSA, applied for citizenship in 2009, began classes in 2012, and in May received her UTSA degree and U.S. citizenship.
"Being single, scared, lonely and away from a house with my parents, seven sisters and three brothers, it was difficult," she said. "But, I worked hard to earn enough money to have my own place and to help support my family in Pakistan. I did it! I am blessed and happy. I was so proud to receive my UTSA degree and my citizenship. It happened with the support of my family, some very respectful friends and my boss."
Qureshi currently serves as the accountant and manager of two Shell convenience stores owned by the businessman who sponsored her work visa.
"This is what UTSA gave to me -- it made me feel unique and helped me learn who I am and what I wanted to do," she said. "I was confident when I came here, but UTSA helped show me the path."
------------------------------
Do you know someone at UTSA who is achieving great things? Email us at social@utsa.edu, and we will consider your submission for an upcoming installment of Meet a Roadrunner.
Read the stories of other UTSA students, faculty, staff and alumni on the Meet a Roadrunner website.