UTSA students attend 50th anniversary ceremony for Civil Rights Act passage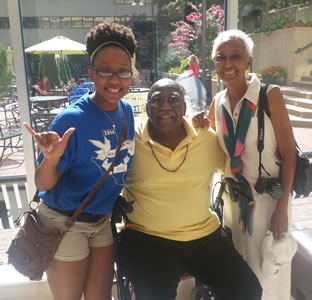 Share this Story
(July 9, 2014) -- UTSA senior biology major CaShonda Henderson, junior multidisciplinary studies major Brianna McCormick and political science graduate student Claudia Sanchez participated in an historic ceremony commemorating the 50th anniversary of the signing of the Civil Rights Act of 1964. They were selected through a U.S. Department of Education program because of their work as new student leaders and civil rights activists.
The students met peers from around the country with similar passions for making a positive difference in solving pressing social issues. They traveled from Washington, D.C., to Richmond, Va., by bus with a group of civil rights luminaries including members of the original Freedom Riders.
"This experience was eye-opening, inspiring and breath-taking all at once," said McCormick. "It was a dream come true."
The closing ceremony was at the Virginia State Capitol Old House Chamber. In opening remarks, Governor Terry McAuliffe spoke of the tremendous impact of the Freedom Riders in the creation of the Civil Rights Act. Catherine Lhamon, Department of Education Assistant Secretary for Civil Rights, gave the keynote address.
Henderson spoke with Freedom Riders Charles Person and Rev. Reginald Green about the dramatic impact they have on younger students by raising awareness of their potential to bring about change.
"I am already reaching out to other students and organizational contacts, and talking about how we can improve mentorship efforts for younger students, especially among males," said Henderson.
Henderson said that UTSA and San Antonio are important for the future of civil rights and social justice.
"As a school that promotes access and excellence for a diverse population, UTSA helps students 'find themselves' and connect with other students around issues greater than themselves," said Henderson.
The UTSA Student Leadership Center funded the travel for the two selected undergraduate students. Yvonne Peña, assistant dean of student affairs, said this was an important opportunity to support UTSA student participation in the historic event.
------------------------------
To apply for the 2015 Civil Rights and Social Justice Experience, visit the UTSA Student Leadership Center website or go to University Center Room 2.01.05 on the Main Campus.
Connect online with UTSA on Twitter, Facebook, YouTube and Instagram.