UTSA senior Taylor Newlin named WGCA All-American Scholar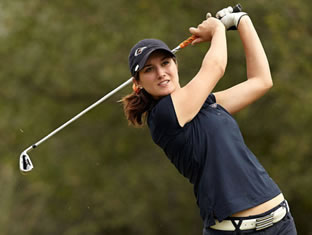 Share this Story
(July 11, 2014) -- UTSA senior Taylor Newlin was named a Women's Golf Coaches Association (WGCA) All-American Scholar for the second straight year, the organization announced in Coral Springs, Fla.
Newlin has a 3.52 cumulative GPA as a double major in accounting and marketing as part of the UTSA MACY (Master of Accountancy) program, where she also will earn a master's degree in accounting.
The Frisco native is a two-time member of the UTSA Dean's List (3.75 or higher semester GPA) and a four-time UTSA Honor Roll (3.50 GPA) honoree. She was named to the Conference USA All-Academic Team in April, one year after being voted to the Western Athletic Conference All-Academic Team. Newlin also was a two-time Southland Conference Commissioner's Academic Honor Roll selection.
On the course, Newlin collected her fourth all-conference award this spring when she was named third-team All-Conference USA. She finished her final campaign second on the squad with a 74.48 stroke average. A three-time second-team all-league selection, she registered three top-10 finishes, including tying for seventh with a 73-72-72—217 at the Conference USA Championship in April.
The Frisco Wakeland High School graduate set a then-school record for low 36-hole total with a 139 (69-70) en route to a seventh-place finish at The Alamo Invitational last fall and placed eighth at the LSU Tiger Classic with a 221 (79-71-71) in March.
A total of 664 women's collegiate golfers at the NCAA Division I, II and III levels were recognized. A minimum cumulative 3.50 GPA is required.
------------------------------
For more information, visit the UTSA Athletics website.
Connect online with UTSA on Twitter, Facebook, YouTube and Instagram.
This story was republished courtesy of UTSA Athletics.