UTSA's Triston Wade named to Jim Thorpe Award preseason watch list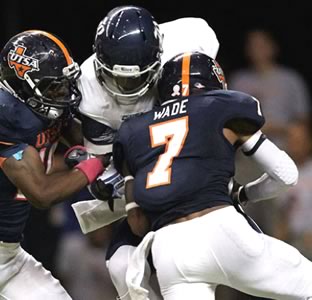 Share this Story
(July 18, 2014) -- UTSA student-athlete Triston Wade is one of 39 players recently named to the Jim Thorpe Award preseason watch list. The award is presented annually to the nation's top defensive back.
Wade is coming off another all-conference season for the Roadrunners. The 5-foot-11, 170-pound free safety followed up his 2012 first-team All-Western Athletic Conference campaign with a team-leading 94 tackles and two interceptions to go along with seven pass breakups and two-and-a-half tackles behind the line of scrimmage in 12 starts, and he was rewarded with second-team All-Conference USA recognition.
The senior from Tyler intercepted both his passes at Tulsa (Nov. 2), one of which he returned 82 yards for a touchdown, and he also broke up a toss in the end zone to go along with four stops in that contest. Wade recorded a career-high 12 stops at Arizona (Sept. 14) and matched that feat two weeks later against Houston (Sept. 28).
He enters his final season as the program's all-time leader in interceptions (8), pass breakups (21), forced fumbles (7) and fumble recoveries (4) and stands second in tackles (207). Wade has had a hand in a total of 15 turnovers (eight INTs/seven fumbles) in the first 34 games of his career.
The Jim Thorpe Award is one of the most coveted awards in college football. It was established in 1986 and is named after history's greatest all-around athlete, Jim Thorpe. Thorpe excelled as a running back, passer and kicker on the offensive side of the ball, but he also stood out as a defensive back. In addition to his legendary performance on the football field, he played professional baseball and won Olympic gold medals in both the decathlon and pentathlon.

The Thorpe Award watch list was chosen by a screening committee, but the list is not final, as players who have outstanding seasons are added as the season progresses. This year's winner will be selected from three finalists and announced Thursday, Dec. 11 at The Home Depot College Football Awards Show on ESPN. The Jim Thorpe Award Banquet then will be held Tuesday, Feb. 3, 2015, in Oklahoma City. View the complete list of previous Jim Thorpe award winners.
It marks the second time in a week that a Roadrunner has landed on a national award preseason watch list, as Nate Leonard was tabbed a Dave Rimington Trophy (top center in the Football Bowl Subdivision) candidate.
UTSA, 7-5 overall and 6-2 in C-USA play a year ago, will open its 2014 season on Friday, Aug. 29 at Houston. The first-ever game at the brand new TDECU Stadium will kick off at 8 p.m. and be televised nationally on ESPNU.
------------------------------
For more information, visit the UTSA Athletics website.
Connect online with UTSA on Twitter, Facebook, YouTube and Instagram.
This story was republished courtesy of UTSA Athletics.