UTSA Women's Professional Advancement and Synergy Academy presents program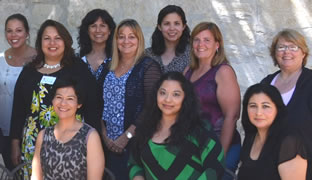 Share this Story
(July 14, 2014) -- The UTSA Women's Professional Advancement and Synergy Academy (WPASA) recently presented its second program with 24 women staff and faculty representing each of the vice presidential areas and the president's office. The academy began with a keynote delivered by Gage Paine, vice president for student affairs at UT Austin, who was introduced by Marjie French, UTSA vice president for external relations.
The academy featured lectures and panel discussions led by Judith Verdon from UTSA HR Training and Development; Cindy Teske, assistant director of the UTSA College of Business Academy of Leadership and Transformation; Alison Smith, UTSA assistant director of fitness and wellness; and Marcheta Evans, vice president for academic affairs at Our Lady of the Lake University.
Workshops were conducted by WPASA alumni and a steering committee including Rhonda M. Gonzales, Ann Eisenberg, Em de la Rosa, Nina Sosa, Raquel Marquez and Rebecca Anderson.
Participant Mary Peters said, "It was a refreshing review of personal career accomplishments and goals. It also served as a very productive and intensive networking opportunity with female faculty and staff that I otherwise might never have had the pleasure of engaging."
WPASA was founded in 2012 to support a cross-section of women in higher education in developing their careers. It focuses on building professional talents, enhancing leadership skills, developing a pipeline of university collaborations and partnerships, and creating opportunity for mentor/sponsor relationships. In spring 2013, the academy achieved a milestone when the President's Distinguished Diversity Award was awarded to the WPASA steering committee.
The 2014-2015 WPASA participants were selected and funded by their respective leadership areas. The cohort members and their leadership areas are:
Andra Kiser, Office of the Vice President for Student Affairs
Anne Jimenez, Student Conduct and Community Studies
April Lawver, College of Business Academic Advising
Ashley Spain, Orientation and Family Programs
Belinda Harmon, P-20 Initiatives
Brittany Pratt, Development
Carol Gonzalez, Office of the Vice President for Student Affairs
Cassandra Porter, Inventory
Denise Boyett, Business Auxiliary Services
Diana Cisneros, Office of the President
Ginnifer Cie Cee, Office of the Registrar
Giselle Diaz, UTSA Art Collection
Karen Daas, Department of Communication
Karen Ivy, Career Services
Kirstin Wilsey, Research Service Center
Lisa Pecor, Student Health Services
Marisela Fuentes, Operations and Gift Services
Marlene Zacarias, Facilities and Engineering Project Management
Mary McNaughton-Cassill, Department of Psychology
Mary Peters, Small Business Development Center
Patricia Cardenas, Office of the President
Patricia Sanchez, Department of Bicultural-Bilingual Studies
Rebekah Smith, Department of Psychology
Ruth Ann Carrillo, Purchasing and Distribution Services
------------------------------
Connect online with UTSA on Twitter, Facebook, YouTube and Instagram.