Meet a Roadrunner: Alex Guajardo learned importance of education, community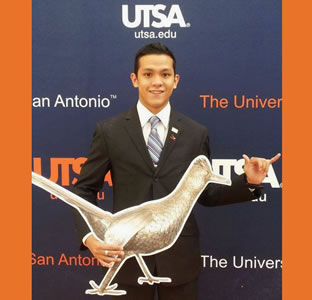 Share this Story
(Aug. 6, 2014) -- Meet Alex Guajardo. He graduated from UTSA this spring, but can already say he's worked for a mayor and walked the halls of Capitol Hill in Washington, D.C.
"UTSA opened the doors to limitless opportunities for me, like working with former San Antonio Mayor and now Secretary of Housing and Urban Development Julián Castro and Congressman Joaquin Castro from the 20th District. These opportunities provided a high-quality education, teaching me the importance of community engagement and the impact of public service," Guajardo said.
While at UTSA, Guajardo was part of a group of students in the Student Government Association who rallied to bring Iron Rowdy to campus. Being part of new traditions such as this is what he says made his UTSA experience unique.
"While engaging in student activities, I felt UTSA offered so many opportunities for new beginnings and traditions that I could be a part of," he said. "I felt I could make an impact to my university in attaining Tier One status."
Guajardo grew up in the Rio Grande Valley, where he saw a number of injustices he says he hopes to help change through public policy.
"I strongly believe it is my vocation to fulfill my civic duty by working in government in order to voice the concerns that resonate with many of my people in the Rio Grande Valley," he said.
Professors at UTSA helped connect him to people and places where he could learn to help express those concerns.
"These experiences were only made possible thanks to the help of my instructors and advisers. They helped revise personal statements, resumes, policy papers and compose letters of recommendations," he said. "I would not be where I am today if it weren't for the faculty and staff at UTSA."
In the future, Guajardo will attend law school and later hopes to run for public office, using the knowledge and experiences he's gained as a UTSA student.
"What motivates me to succeed is knowing there are students like me out there who wish to pursue a higher education, yet are limited on opportunities and resources. I want to ensure that I can do all that I can, working tirelessly to help them achieve and live some of the same experiences I've had the honor of living," he said.
------------------------------
Do you know someone connected to UTSA who is achieving great things? Email us at social@utsa.edu, and we will consider your submission for an upcoming installment of Meet a Roadrunner.
Read the stories of other UTSA students, faculty, staff and alumni on the Meet a Roadrunner website.
Connect online with UTSA on Twitter, Facebook, YouTube and Instagram.