UTSA closes summer camps with high school baseball evaluation camp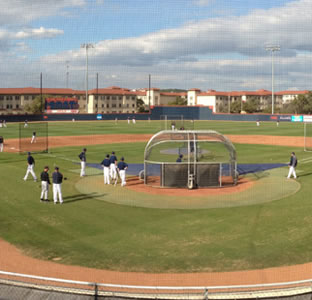 Share this Story
(Aug. 18, 2014) -- UTSA closes out summer camps this week with the High School Base Evaluation Camp on Saturday, Aug. 23, where high school players will have the opportunity to showcase their skills and receive a written evaluation from UTSA Athletics staff. UTSA is the one-stop destination for summer camps in San Antonio -- more than 8,500 students will have participated in 23 camps.
Camps and academies are offered on subjects including science, music, technology, engineering, architecture, sports, law, writing, language and culture. The campers expand their horizons and open their minds to educational and career opportunities. For many, it is their first experience at a top-quality institution of higher education.
The array of sports camps includes basketball, soccer, softball, golf and football to help youth develop their skills through practice and friendly competition in a fun and challenging environment.
------------------------------
For more information, visit the UTSA Summer Camps website with a listing of all UTSA camps and links to find the one that's just right for you and your child.
Connect online with UTSA on Twitter, Facebook, YouTube and Instagram.
Share your summer camp photos @UTSA #UTSAcamps.