UTSA student volunteers travel to Baltimore to help fight food insecurity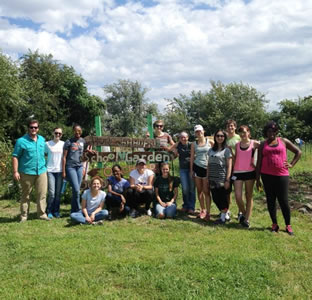 Share this Story
(Aug. 8, 2014) -- UTSA students Amber Calvert and Ebonie Carter recently returned from volunteering in the Alternative Break Citizenship School (ABCs), an experiential training conference dedicated to creating quality alternative break programs. The program is hosted by Break Away at the Community College of Baltimore County and University of Maryland Baltimore County.
Calvert and Carter along with 68 other participants from 42 universities around the country partnered with 11 unique, grassroots organizations in Baltimore that address issues of food insecurity. Their service included gardening, weeding, harvesting, and creating flower beds with urban farms and food distribution groups.
After their service was complete each day, participants had trainings and networking opportunities to share ideas and best practices for alternative break programs. Topics included social justice, reflection, diversity, reorientation, branding and many more.
The students will bring the knowledge they learned back to UTSA to implement through the Volunteer Organization Involving Community Education and Service (VOICES) Alternative Spring Break program. Calvert has plans to strengthen the brand of "ASB" on the UTSA campuses and the reorientation process.
The UTSA Alternative Spring Break program is an experiential co-curricular service-learning experience that empowers and challenges students to understand their relationship with the global community through education, reflection and direct service. ASB trips have taken students to St. Louis, Biloxi, Atlanta, Oklahoma City and other destinations.
------------------------------
To learn more about alternative break trips or to become a faculty-staff adviser, email Cristina.Dominguez@utsa.edu.
Learn about volunteer opportunities at the UTSA Volunteer Services website or visit the Volunteer Services office in H-E-B University Center Room 1.216 on the UTSA Main Campus or email volunteer@utsa.edu.
Connect online with UTSA on Twitter, Facebook, YouTube and Instagram.