Department registration for inaugural UTSA Marketplace is now open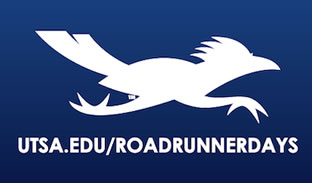 Share this Story
(Aug. 8, 2014) -- All UTSA departments and offices are invited to participate in the inaugural UTSA Marketplace on Tuesday, Aug. 26 at the UTSA Main and Downtown campuses.
UTSA Marketplace, an official Roadrunner Days event, is a university-wide open house to showcase UTSA's many support services. New students will have the opportunity to visit offices at either UTSA campus to receive information and meet UTSA officials.
Throughout the day, several UTSA departments and offices, such as the University Center, UTSA Libraries and UTSA Ambassadors, will offer in-depth introductions to their services, tours and talk to students about opportunities and resources. Many departments also will host informational activities for students.
Roadrunner Productions, formerly the UTSA Campus Activities Board, will host a variety of activities along the University Center Paseo. Students will be given a list of participating departments and offices and have the opportunity to win prizes for their participation.
To register, UTSA departments and offices should email Melissa Jackson with a detailed description of the information they plan to provide students or their planned activity. This information will be shared on the UTSA Marketplace website and a pamphlet that will be provided to students.
Following approved registration, the Roadrunner Days committee will provide participating departments and offices with a placard to display on the day of the event.
------------------------------
Roadrunner Days is the official kick-off for the new school year filled with great events. For a complete list of events and more information, visit the UTSA Roadrunner Days website.
Connect online with UTSA on Twitter, Facebook, YouTube and Instagram.