Inaugural Midnight Light ceremony makes sky glow with UTSA colors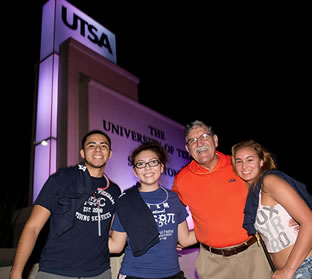 Share this Story
(Aug. 26, 2014) -- UTSA students, faculty and staff packed the space around the UTSA monument sign late Monday night. They were there to begin the Midnight Light tradition of shining UTSA colors onto the entrance sign and into the night sky to open the new academic year. The crowd began gathering at 11:30 p.m., and President Ricardo Romo pushed the button at midnight to turn on the colors.
Near John Peace Circle at the northeast entrance to the Main Campus, the crowd cheered as the lights went on. The UTSA cheerleaders, Mr. and Ms. UTSA Zack Dunn and Rebecca Smith, and the Spirit of San Antonio Marching Band were there to help lead the celebration.
The award-winning architectural element welcomes everyone to campus, highlights the university's presence in the community and shows that the UTSA spirit is burning bright. The lighting for the monument is full-spectrum LED lighting and can be set to display in a wide array of color combinations -- including UTSA orange, blue and white.
The event was part of UTSA Roadrunner Days, the official kick-off of the new academic year, which features a series of themed events running Aug. 22-29 at the Main and Downtown campuses. The events and activities give students an opportunity to take part in new and time-honored UTSA traditions and connect with UTSA resources.
------------------------------
For more information and the event schedule, visit the UTSA Roadrunner Days website.
Connect online with UTSA on Twitter, Facebook, YouTube and Instagram.
Share your Roadrunner Days experiences using hashtag #UTSARRDAYS.