UTSA Police Department applies for accreditation by law enforcement commission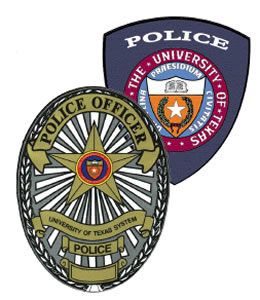 Share this Story
(Aug. 1, 2014) -- The UTSA Police Department will have an on-site assessment this month as part of an accreditation program. The Commission on Accreditation for Law Enforcement Agencies Inc. (CALEA) will verify that UTSA meets certain standards. A rare achievement, the UTSA Police Department previously received dual professional accreditation from CALEA in 2008 and the International Association of Campus Law Enforcement Administrators (IACLEA) in 2010.
As part of the assessment, members of the UTSA and San Antonio communities and the CALEA accreditation team are invited to offer comments at a public information session at 3 p.m., Monday, Aug. 18 in the Business Building University Room (2.06.04) on the UTSA Main Campus.
The accreditation program requires agencies to comply with state-of-the-art standards in four areas: policy and procedures, administration, operations and support services. CALEA accreditation is a prized recognition of public safety professional excellence. Accreditation is for three years, during which time the agency must submit annual reports attesting continued compliance with the standards under which it was accredited. UTSA has complied with 481 standards to gain accredited status.
CALEA standards are geared toward community policing, which aid in better relationships between police and the community. The standards pertain to all police organizations including municipal, county, state and university departments.
Those who cannot attend the information session can telephone remarks to 210-458-6780 from 10 a.m. to noon, Tuesday, Aug. 19. Comments by telephone and at the Aug. 18 information session are limited to 10 minutes per person and must address the UTSA Police Department's ability to comply with CALEA standards.
------------------------------
For more information or to submit written comments about the UTSA Police Department's ability to meet the standards for accreditation, write to: Commission on Accreditation for Law Enforcement Agencies Inc., 13575 Heathcote Blvd., Suite 320, Gainesville, Va. 20155.
For a copy of the accreditation standards, visit the UTSA Police Department, Bosque Street Building, One UTSA Circle, San Antonio, Texas 78249.
For additional information, contact CALEA at 703-352-4225 or email calea@calea.org, or contact Lt. Robert Hudson, UTSA Police Department, at 210-458-4421.
Connect online with UTSA on Twitter, Facebook, YouTube and Instagram.