UTSA to dedicate Roadrunner statue Aug. 27 at Main Campus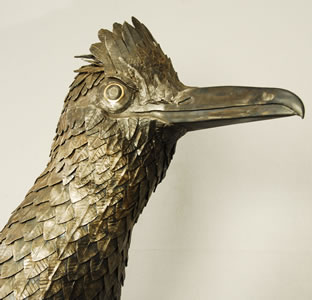 Share this Story
(Aug. 26, 2014) -- UTSA will host a special dedication ceremony for its six-foot tall, thousand-pound Roadrunner statue, which has moved to its permanent home in the Central Plaza, directly across from Sombrilla Plaza, on the UTSA Main Campus. The ceremony, scheduled for 4-5 p.m., Wednesday, Aug. 27, is an official part of UTSA's annual Roadrunner Days and is open to the public.
The dedication will feature UTSA President Ricardo Romo, leaders from the Student Government Association (S.G.A.) including S.G.A. President Zack Dunn, UTSA Athletics representatives and athletes, and statue artist R.G. Box.
The iron Roadrunner statue had been stationed in the lobby of H-E-B University Center since it arrived on the Main Campus last September, while its permanent home was being prepared.
The statue's journey to UTSA began in late 2010 when several registered student organizations, including the S.G.A. and Sigma Pi Fraternity, came together to explore ways to boost school spirit among students. Their dream was to fund the commission of UTSA's first-ever roadrunner statue and to create a new university tradition.
Inspired by a conversation with UTSA Associate Athletic Director Jim Goodman, Box spent 1,000 hours working to complete UTSA's giant Roadrunner statue. Box handcrafted the 11-foot-long statue in his forge using fires upward of 2,700 degrees Fahrenheit. Each of the statue's 1,000 feathers was hand-sculpted. Since then, Box has been very enthusiastic about the students' efforts to make his work a part of UTSA history.
Bring Rowdy Home, led by students, raised more than $25,000 in less than a month. Students, faculty, staff, alumni and other benefactors from across the country supported the campaign to bring the statue to campus. Student organizations worked closely with administrators in the Student Affairs division and other UTSA staff to make the campaign a success.
--------------------------------
For more information about the Bring Rowdy Home campaign including the full list of donors, visit the Bring Rowdy Home website.
For more information and the event schedule, visit the UTSA Roadrunner Days website.
Connect online with UTSA on Twitter, Facebook, YouTube and Instagram.
Share your Roadrunner Days experiences using hashtag #UTSARRDAYS.