Apply now for UTSA Student Leadership Center educational excursions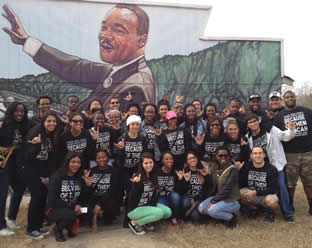 Share this Story
(Sept. 19, 2014) -- The UTSA Student Leadership Center (SLC) recently reopened its office in a new location, University Center Suite 1.00.40, and students, staff and guests are invited to visit to learn about the opportunities offered through the center.
The center facilitates and provides purposeful leadership encounters for students through education, engagement and experience. The center has a variety of resources available throughout the year to develop student leaders across the university. These opportunities provide continuous leadership experiences for students.
The SLC also offers several leadership travel opportunities for students including:
The Civil Rights and Social Justice Experience
Texas Conference for Women and Men
The Southwestern Black Student Leadership Conference
The National Collegiate Leadership Conference
The SLC covers a majority of costs including transportation, lodging, meals, and registration fees for its fall and spring programming.
The annual Civil Rights and Social Justice Experience in particular has garnered much attention across campus through the past participants spreading the word about their experiences on the trip. The program takes UTSA students out of Texas and immerses them in the history of the Civil Rights Movement. Selected participants travel to historical sites and monuments in New Orleans, La., Birmingham, Ala. and Memphis, Tenn.
Hannah Beck, a junior political science major, attended the last year's Civil Rights and Social Justice Experience and said, "For me, this trip was eye-opening because it helped me connect with a history that's still being written, a struggle that's still occurring, and inequalities that still exist."
------------------------------
For more information visit, the Civil Rights and Social Justice Experience website. The deadline to apply is 5 p.m. Sept. 26. The application is open to undergraduate sophomore, junior or senior students with a UTSA cumulative GPA of 2.50 or higher.
Learn more at the UTSA Student Leadership Center website.
Connect online with UTSA on Twitter, Facebook, YouTube and Instagram.