International HIV/AIDS research pioneer to keynote UTSA science conference Oct. 3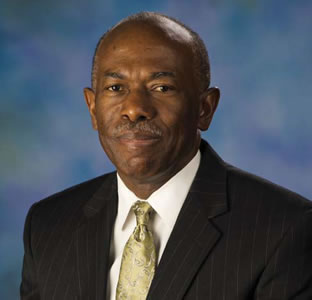 Share this Story
(Oct. 1, 2014) -- The UTSA College of Sciences (COS) will host internationally recognized HIV/AIDS research pioneer James E. K. Hildreth, M.D., as the keynote speaker for its annual research conference. The conference will be 8 a.m.-5 p.m., Friday, Oct. 3 at the UTSA Main Campus.
>> The opening and keynote speeches for the conference will be in the University Center Retama Auditorium (2.02.02) and most other sessions will be in conference rooms in the H-E-B University Center. View the complete conference schedule.
The conference, featuring nearly 700 participants, will offer aspiring scientists from UTSA and neighboring South Texas universities the opportunity to come together for scientific discourse. Students and faculty will share knowledge and foster connections to strengthen their research and training capabilities. Area high school students also will be in attendance.
This year's theme is "Excellence in Basic and Translational Science Research." The event will include exhibitor booths and more than 225 scientific oral and poster presentations by students and researchers in chemistry and biochemistry, computer science and mathematics, infectious diseases, neurobiology, regenerative and molecular medicine, water, energy and environment. The conference will feature a panel discussion on health disparities that impact San Antonio community.
At 9 a.m. in the Retama Auditorium, Dr. Hildreth, a professor of molecular and cell biology and dean of the College of Biological Sciences at the University of California, Davis, will present the keynote address, "HIV-1: Subversive Strategies in Transmission and Pathogenesis."
In 2010, Hildreth made international headlines when he and his collaborators developed an odorless, undetectable contraceptive cream that destroys the AIDS virus in women. He received the Johns Hopkins University Alumni Association's Knowledge for the World Award in 2012 for his medical breakthrough.
Prior to UC Davis, Hildreth directed the Center for AIDS Health Disparities Research at Meharry Medical College in Nashville and served as associate director for the Vanderbilt-Meharry Center for AIDS Research.
------------------------------
For more information or to register for the conference, visit the UTSA College of Sciences Research Conference website or contact Cheryl Negrete at 210-458-5168.
Connect online with UTSA on Twitter, Facebook, YouTube and Instagram.