UTSA releases spring 2015 census numbers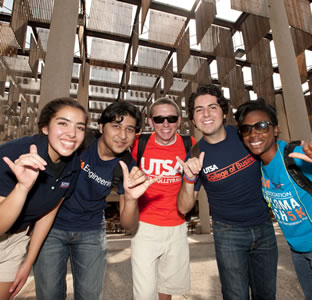 Share this Story
(Feb. 20, 2015) -- More students are enrolled in the College of Business for the spring 2015 semester than any other UTSA college, according to an official census report by the UTSA Office of Institutional Research (OIR).
Nearly, 4,900 students are enrolled in the College of Business, representing 19 percent of UTSA's current student population.
Nationally ranked and internationally recognized, the UTSA College of Business offers a comprehensive curriculum that expands the boundaries of a traditional business education. Internationally accredited by AACSB International, the college was named the No. 8 graduate business school in the nation for Hispanics by Hispanic Business magazine and has been nationally ranked by BusinessWeek, Hispanic Outlook and the Princeton Review.
UTSA is also experiencing an increase in the number of undergraduates currently classified as seniors. Last semester, UTSA had 8,130 seniors; this semester, that number is 8,496.
Eighty-three percent of the UTSA student population takes classes solely at the UTSA Main Campus. Seven percent of students take classes at the Downtown Campus. The remaining students split their time between both campuses.
-------------------------------
Connect online with UTSA on Twitter, Facebook, YouTube and Instagram.
Statistics for All UTSA Students:

Student Enrollment by Level
| | | |
| --- | --- | --- |
| | Spring 2015 | |
| Type | # | % |
| Undergraduate | 22,069 | 84% |
| Post-Baccalaureate | 267 | 1% |
| Master's | 3,132 | 12% |
| Doctoral | 747 | 3% |
| Total | 26,215 | 100% |
Student Enrollment by Gender
| | | |
| --- | --- | --- |
| | Spring 2015 | |
| Type | # | % |
| Female | 12,948 | 49% |
| Continuing Students | 13,267 | 51% |
| Total | 26,215 | 100% |
Enrollment by Classification
| | | |
| --- | --- | --- |
| | Spring 2015 | |
| Type | # | % |
| Freshmen | 3,908 | 15% |
| Sophomores | 4,207 | 16% |
| Junior | 5,458 | 21% |
| Seniors | 8,496 | 32% |
| Post-Baccalaureate | 267 | 1% |
| Master's | 3,132 | 12% |
| Doctoral | 747 | 3% |
| Total | 26,215 | 100% |
Student Enrollment by Ethnicity
| | | |
| --- | --- | --- |
| | Spring 2015 | |
| Type | # | % |
| Unknown | 293 | 1% |
| White only | 7,249 | 28% |
| Hispanic of any race | 12,591 | 48% |
| Black or African American only | 2,262 | 9% |
| Asian only | 1,383 | 5% |
| American Indian or Alaska Native only | 46 | 0% |
| Nonresident alien | 1,575 | 6% |
| Native Hawaiian or other Pacific Islander only | 53 | 0% |
| Two or more races | 763 | 3% |
| Total | 26,215 | 100% |
Enrollment by College
| | | |
| --- | --- | --- |
| | Spring 2015 | |
| Type | # | % |
| Architecture, Construction & Planning | 758 | 3% |
| Business | 4,879 | 19% |
| Education & Human Development | 4,311 | 16% |
| Engineering | 3,162 | 12% |
| Liberal and Fine Arts | 4,567 | 17% |
| Other / Misc. | 226 | 1% |
| Public Policy | 1,362 | 5% |
| Sciences | 4,356 | 17% |
| University College | 2,594 | 10% |
| Total | 26,215 | 100% |
-------------------------------