Prof. Barea-Rodriguez to serve as Vice Provost for Resource Management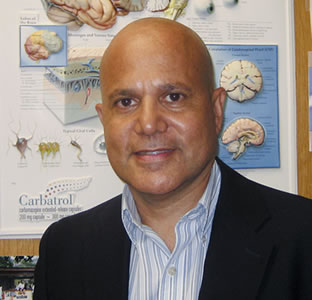 Share this Story
(May 7, 2015) -- Longtime UTSA faculty member Edwin Barea-Rodriguez will join the university administration as Vice Provost for Resource Management and Instructional Innovation. His appointment is effective Sept. 1.
As vice provost, Barea-Rodriguez will oversee operating and capital budgets in Academic Affairs, university space utilization, sustainability initiatives, and faculty engagement in innovative approaches to teaching and learning.
"Edwin has a proven record of visionary, innovative leadership, as well as a demonstrated commitment to student and faculty success," said John H. Frederick, provost and vice president for academic affairs. "As a faculty member who has risen through the ranks over his 20-year career at UTSA, Edwin has broad experience and will be a terrific asset in the administration to help align budgets and classroom, laboratory and office space in support of teaching and research."
In his new role, Barea-Rodriguez will supervise the directors of the Office of Space Management, and Academic Budgets and Planning. He also will begin a search to fill a new position, Director of Sustainability, to advance campus environmental initiatives in collaboration with the UTSA Sustainability Council.
Finally, he will work closely with the Teaching and Learning Services (Libraries) and Educational Technology (OIT) teams in support of faculty and course development.
A top priority of his office will be to work in conjunction with the associate vice president for financial affairs to enhance budgetary operations, oversee internal financial controls, and develop short- and long-term financial plans that support strategic initiatives.
"As a faculty member myself, I believe it is important for faculty and staff to understand the university's funding and allocation processes, as well as to help identify opportunities for revenue growth and cost effectiveness," said Barea-Rodriguez. "The university already has been working to facilitate a more transparent budget model, and I am grateful for this opportunity to work with the colleges and academic support units to help them meet their funding needs."
Barea-Rodriguez joined the faculty of the Department of Biology in 1995, earning tenure in 2002 and promotion to full professor in 2011. He has served as department chair since 2007 and is co-chair of the Department Chair Council.
In addition to his appointments in the Department of Biology, Barea-Rodriguez serves as director of the Minority Biomedical Research Support, Minority Access to Research Center, the Alfred P. Sloan Foundation Minority Ph.D., and the Louis Stokes Alliance for Minority Participation programs, all of which aim to increase minority participation in STEM fields.
He received the university's Richard S. Howe Excellence in Service to Undergraduate Students Award in 2006. In 2012, he was one of 40 educators nationwide selected as a Vision and Change Leadership Fellow for the Partnership for Undergraduate Life Sciences Education. Most recently, Barea-Rodriguez was named Mentor of the Year by the Southern Regional Education Board.
------------------------------
Connect online with UTSA on Twitter, Facebook, YouTube and Instagram.