Memorial service scheduled July 24 for former Graduate School dean Dorothy Flannagan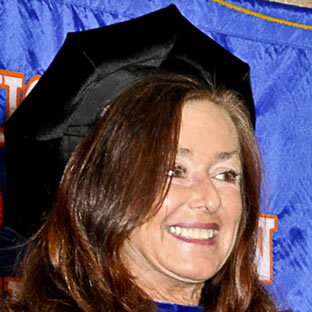 Share this Story
(July 20, 2015) -- The UTSA community lost one of its pioneers in graduate education with the death of Dorothy Flannagan, former dean of the UTSA Graduate School. Flannagan passed away peacefully on July 8 after fighting a three-year battle with cancer.
A developmental psychologist specializing in relationship psychology, Flannagan joined UTSA as an assistant professor 1990 just after earning her doctoral degree, teaching in what was then known as the College of Social and Behavioral Sciences.
Over the next eight years, she was recognized for her passion for education by being promoted to associate professor, and to associate dean of the College of Liberal and Fine Arts in 1998. She also served as interim dean of graduate studies before being selected as Vice Provost and Dean of the Graduate School in 2009. Flannagan held that position until her retirement last year.
Flannagan served as UTSA's liaison to the Texas Higher Education Coordinating Board, working to secure approval of new graduate programs.
"Dean Flannagan was committed to expanding our Master's and Doctoral studies and worked in a spirit of collaboration across our colleges to help develop these new programs," said UTSA President Ricardo Romo. "Her dedicated work helped raise the stature of the university and she leaves a lasting legacy at UTSA."
Additionally, Flannagan played an important role in securing the Carnegie Foundation's re-designation of UTSA to Ph.D. high research activity institution.
She was also well known in the San Antonio and South Texas business communities for forging partnerships that helped lead to the creation of additional Ph.D. programs.
"What Dean Flannagan did for UTSA was to make us a doctoral institution," said UTSA Provost John Frederick. "She opened the door. Now, it is up to us to make the most of what she created."
The UTSA community is invited to attend a memorial service for Flannagan at 4 p.m. on Friday, July 24 in the University Center Retama Auditorium (UC2.02.02) on the UTSA Main Campus. In commemoration of her life, Flannagan's family encourages her friends and colleagues to contribute to The Dorothy Flannagan Memorial Scholarship in care of the UTSA Office of External Relations.
Flannagan is survived by her son, Michael; granddaughter, Katie; husband Raymund Paredes; sister and brother-in-law, Elizabeth and Steve Edwards; niece Anne Edwards Robertson and her husband, Joshua; nephew Sam Edwards; her husband's daughter and son-in law, Sara Paredes and Tony King; and granddaughters Layla King and Julia King.
--------------------------------------------
Connect online with UTSA on Twitter, Facebook, YouTube and Instagram.