UTSA architecture students win big by reimagining big box store as green space and library
I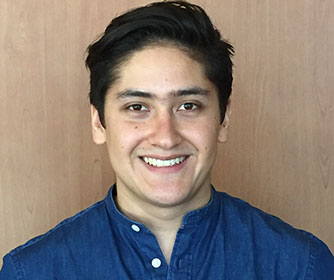 Share this Story
(May 11, 2016) -- In an award-winning proposal titled "Banding for Knowledge," UTSA undergraduates Isaias Garcia Coronado and Daniel Rodriguez Suarez reimagine the site of a former big box store in San Antonio as an environmentally friendly library and park. Their designs, completed under the guidance of assistant professors Ian Caine and Rahman Azari, aim to reduce the carbon footprint of the vacant site and surrounding community.
Banding for Knowledge recently took one of 10 winning spots at the annual American Institute of Architects Committee on the Environment's (AIA COTE) Top Ten for Students Design Competition, held in partnership with the Association of Collegiate Schools of Architecture (ACSA). More than 400 entries were submitted to the competition this year, while a jury of national sustainability experts selected winners.
Garcia Coronado and Rodriguez Suarez completed the Banding for Knowledge proposal for Caine and Azari's spring undergraduate design studio, which teaches UTSA architecture students how to design in ways that are adaptive to their surroundings and environmentally sustainable.
The reimagined space would offer its community a place to learn about sustainability, gardening, recycling and other environmentally friendly practices. The students' award-winning design also proposes the creation of a garden area that makes use of native plants to provide a habitat for the local wildlife. The final product could be a prototype for vacant big box sites across the country.

"We couldn't be happier for Isaias and Daniel, who worked tirelessly on these drawings for five months," Caine said. "Their winning submission offers a sophisticated integration of structure, landscape and environmental systems, delivered with a refreshingly direct approach to form-making that is as powerful as it is pragmatic."
He added: "These young designers are positioning themselves as future leaders in the critical areas of building performance, adaptive re-use and environmental sustainability."

Later this month, Garcia Coronado and Rodriguez Suarez's project will be exhibited among architecture and design professionals at the AIA Annual Convention in Philadelphia, Pa. Their designs will also be exhibited at the 105th Association of Collegiate Schools of Architecture's Annual Meeting in Detroit, Mich. next year.
-- Nicole Chavez,
Communications and Development Coordinator, College of Architecture, Construction and Planning
————
View Garcia Coronado and Rodriguez Suarez's winning entry on the ASCA website or in Architect Magazine.
Learn more about the UTSA College of Architecture, Construction and Planning.
Connect online at Facebook, Twitter, YouTube and Instagram.